There's no denying the pull and the purchase-driving power of TikTok (or, indeed, #BeautyTok). In the past two years, the platform has revolutionised how beauty lovers shop and, in turn, how brands approach their social media strategies. Case in point? In a study by Flamingo Group, 56% of users said they feel more positive about a brand after seeing it on the platform, while 73% revealed they feel uplifted after viewing the authentic content TikTok has become famous for.
With statistics like these, beauty brands can't afford to ignore TikTok influencers in their marketing plans – whether they feel the platform's 'rough and ready' approach fits their tone of voice or not. The platform's preference for the playful, whimsical and unfiltered poses numerous challenges for traditional premium brands. But, as TikTok's audience and shopping-centric features grow exponentially, the need for a solution does too.
The good news is, many prestige brands have embraced the challenge with aplomb, balancing their premium aesthetic with the rawness and authenticity that TikTok and its influencers command. At mmi analytics, we've been watching with interest as beauty power players debut on the platform. Here are just some of the results we've noticed in the category from August 2021 to July 2022…
1. Christian Dior is the highest ranked historic beauty brand on TikTok
Within the 'historic' category – which features traditional brands that have graced beauty counters for decades – Christian Dior is the highest ranked in terms of TikTok mentions. Dior enjoys position 20 in the overall beauty category, alongside other prestige originals, such as Clinique (35), YSL (41), Estée Lauder (43) and Lancome (44).
2. Charlotte Tilbury has received the highest number of TikTok mentions
Premium brands that are newer to the market are receiving the highest overall mentions, with Charlotte Tilbury coming in at number one. (The Hollywood Flawless Filter is a particular TikTok tutorial favourite.) NARS Cosmetics is number two, Huda Beauty is number three, and Selena Gomez's Rare Beauty, which only launched in 2020, is ranking at number four.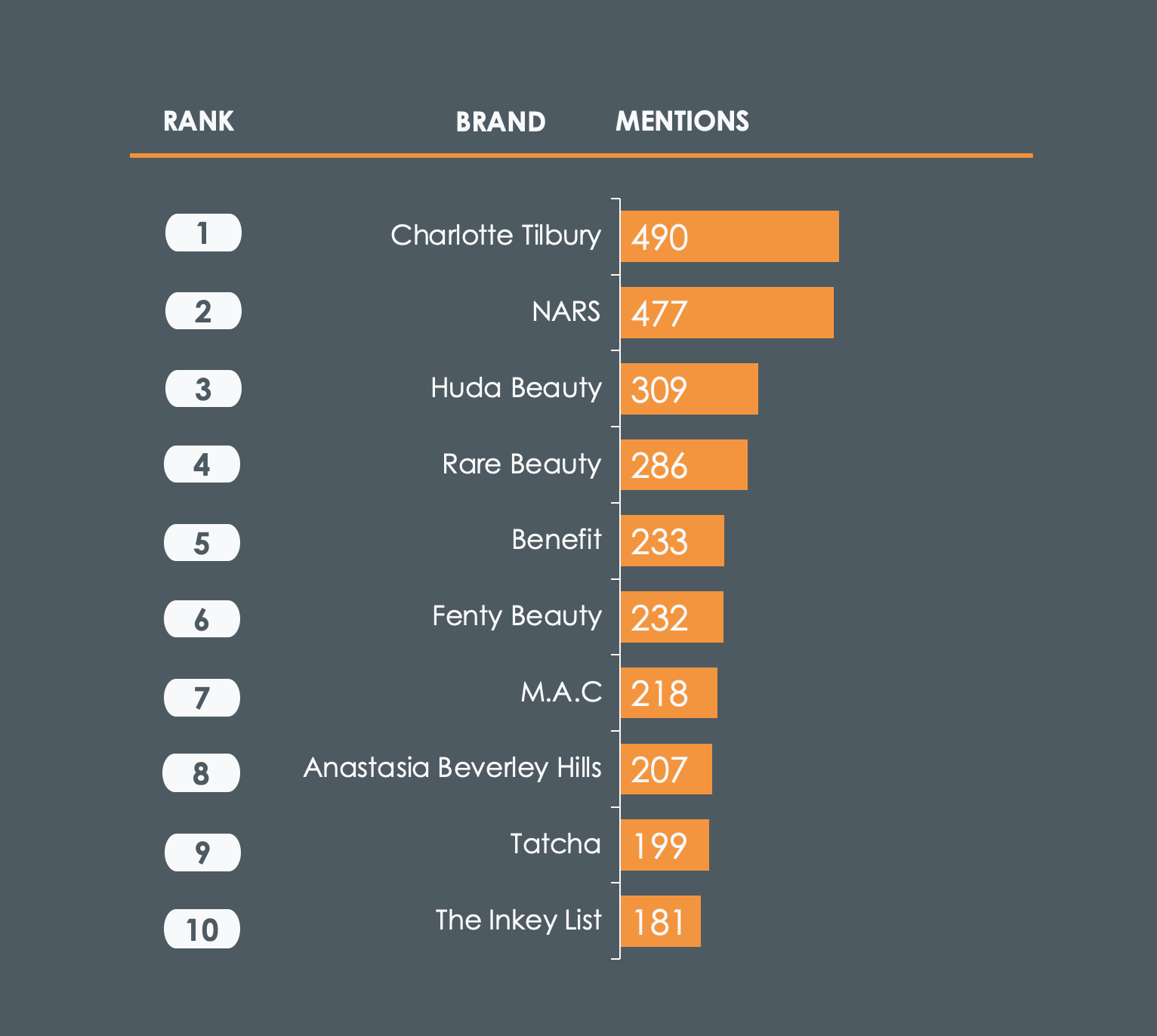 3. Makeover-style posts are the top coverage drivers
Where premium brands are enjoying the most organic coverage is in 'get ready with me'-style videos, which see influencers using a raft of products for quick, compelling makeovers. Unsurprisingly, the cosmetics category, with its visible results, has gained the highest presence here. This has put brands with cosmetics lines at a greater advantage on TikTok. With this in mind, Byredo's expanding makeup range and Summer Fridays' Skin Tint launch seem all the smarter – but could it mean more fragrance and skincare stalwarts branch out into colour cosmetics too?
4. Paid-for content also accounts for a high volume of premium beauty mentions
In the premium beauty space, many brands are working with influencers on paid-for content, which accounts for a high volume of the category's mentions. This is a tactical way of boosting presence on TikTok and gaining authentic-looking content, which brands can then post on their own channels as a simple way of building up their profile.
But, for brands hoping to elevate their mentions organically, they should also be leaning into the #challenge side of TikTok; a strategy that's uncharted territory on many premium profiles.
By launching these beauty challenges with paid-for ads at first – a move that will increase their initial awareness – they may then propel their mentions, followings and conversions on the platform. For inspiration, take a look at 7 of the best ways beauty brands are using TikTok.
Up next on TikTok: