It's no surprise that nearly 80% of beauty brands launch influencer marketing campaigns. When it comes to boosting reach, awareness and sales of your products, there are few better ways than with the help of top talent. The challenge is making sure you're partnering with the best creators uniquely for your brand, so you can enjoy the positive return on investment (ROI) that digital disruptors are seeing every day.
And, now, beauty brands are discovering that finding the right influencer means finding the right influencer platformfirst. While most tools will show you talent's top line metrics – such as followers or engagement rates – the current landscape calls for more granular insights to identify creators. To help you on your search, here are the top 9 features your influencer marketing platform should include – including tools that make it easy to track and manage your campaigns too…
1. Granular filtering
To speed up identification of influencers to work with, your platform's filtering system needs to go granular. The 'basics' include age, location, gender and follower count, but you should also be able to explore based on interests, reach and impact. For example, if you're launching a vegan face serum, you may want to find talent who often talk about veganism, or if you're promoting an express makeup product, a parenting TikToker could be the perfect pick. Consumers respond best to authentic influencer partnerships, so finding creators with a true affinity to your brand is more crucial than ever.
2. Audience demographics
The demographics of your chosen influencer and those of their audience don't always match up. Case in point: while a creator might be based in the UK and in their thirties, most of their followers could be in the US and the Gen Z category. For this reason, it's important that your influencer platform gives you access to audience data, so you can ensure your campaigns will reach the right people, in the right place, at the right time.
3. Lookalike recommendations
Another useful feature for identifying talent is a 'lookalike' recommendations engine. If you've already found an influencer that works for your brand, discovering similar creators will help you broaden your reach. Quick and relevant recommendations will save time and allow you to easily expand your network, so you can establish a cohesive group of brand ambassadors that fit the ideal profile.
4. Campaign management
An effective and efficient tool won't simply identify influencers; it will also let you manage your campaigns in the same easy-to-use interface. You should be able to oversee your full range of campaigns simultaneously, and sort them into groups, as well as filter them by country, platform or activity. By labelling activations, you can keep your current and past projects perfectly organised, so it's easy to find what you're looking for when it comes to creating reports.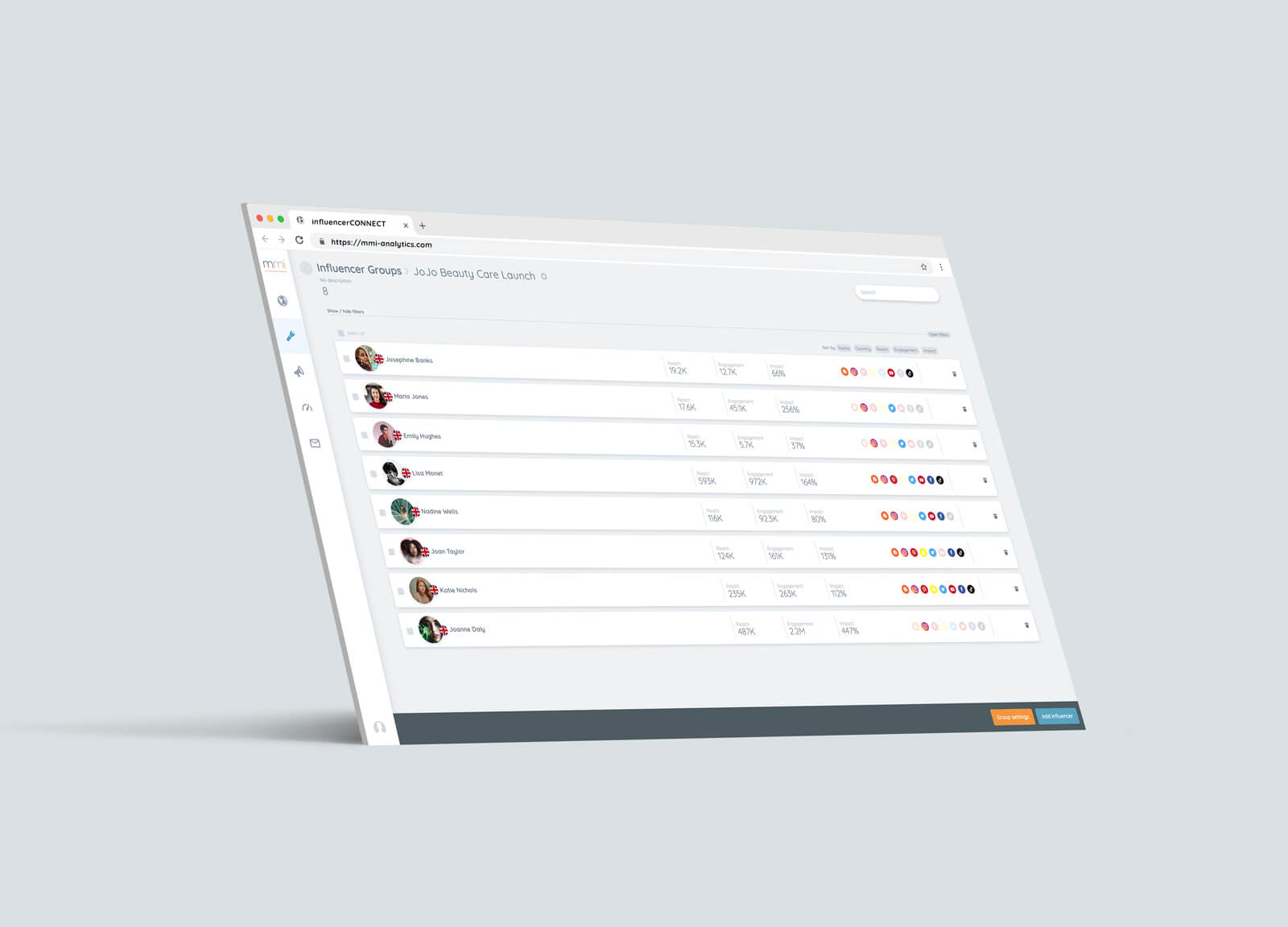 5. Team management
If influencer choices require sign-off from your wider team, having a platform that multiple users can access becomes a priority. Team management within one interface allows for an easy approvals process – especially when project organisation is used in tandem. With this, various stakeholders can quickly find talent shortlists and provide feedback.
6. Campaign tracking
When influencer marketing first started out, creators had to report campaign data back to brand marketers. But, now, sophisticated platforms allow you to track performance yourself, from Instagram Stories to TikTok posts. These tools offer top-line insights without the need for the creator's approval, and then a larger, more granular, non-public dataset with their approval. Reviewing the data in this way enables you to see what content is working – and what isn't – so 'always on' optimisations can be made while campaigns are live.
7. Report building
The right platform will offer standard reports to get you started and show you what's possible, but also allow for personalisation and downloading to share within your organisation. Reporting is a notoriously time-consuming, yet essential, part of influencer marketing, so a tool that can compile your data in a few quick clicks is invaluable for brand teams.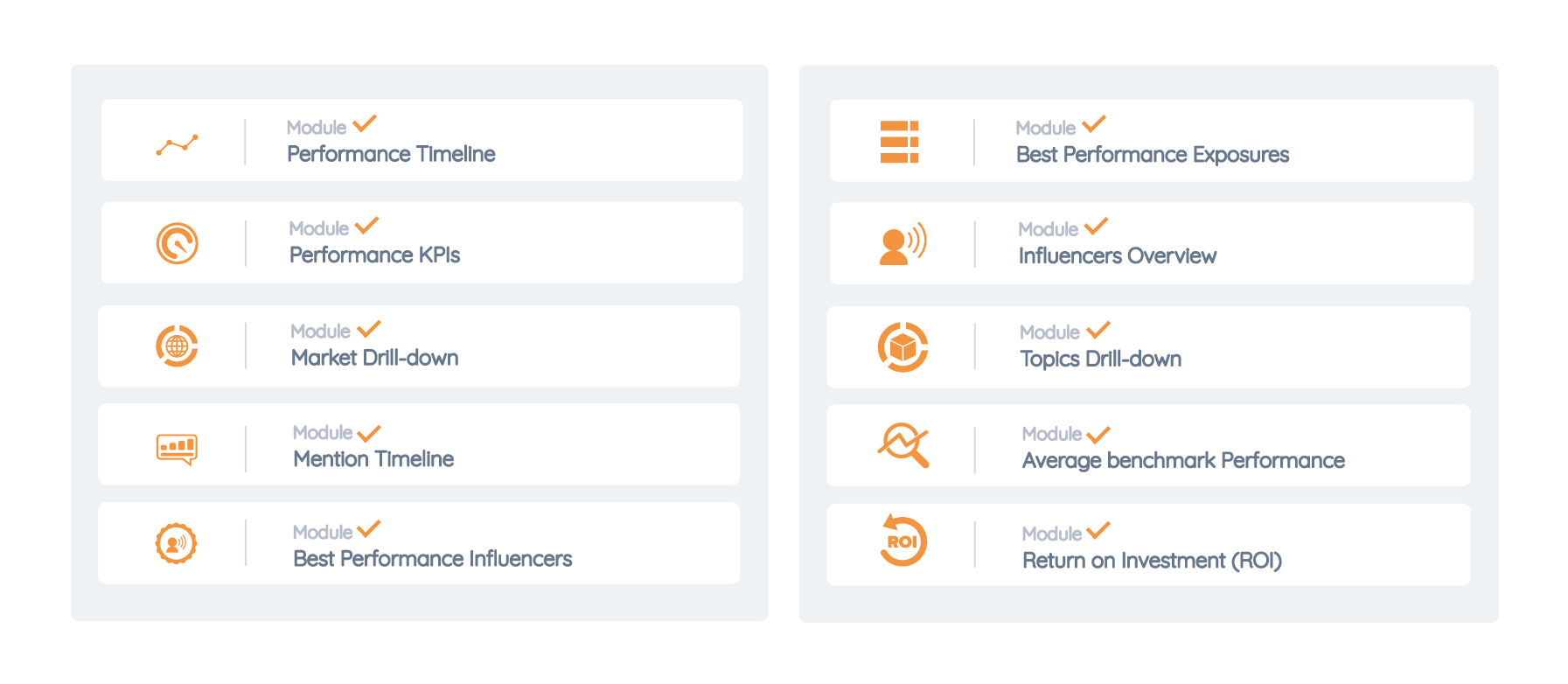 8. Benchmarking
Without context, it can be tricky to understand what 'good' performance looks like. That's why a platform that allows you to benchmark is key to clear and consistent analysis. By generating benchmarks based on your past campaigns, your tool can tell how your latest campaign compares to previous activations. This also simplifies the task of setting realistic goals each quarter.
9. White labelling
If you're working as part of an agency or serving many different customers, being able to brand the platform as your own can be important. A tool that allows you to add your logo, and choose the colour scheme and typography gives a more professional edge to your influencer activities.
With all of these features available, your brand can unlock more value from an influencer marketing platform, allowing you to plan, negotiate, implement and analyse your campaigns in one place. To find out how mmi influencerIMPACT can help you save time and boost ROI with influencer activations, book a demo today.