"How do you market a scent online, in a space where there is no smell?" It's the everlasting question for fragrance brands. One that can be answered in four words: optimise your digital shelf. As bricks-and-mortar footfall plunges and eCommerce sales rise, a seamless digital experience is more vital than ever. The goal? To recreate the excitement and allure of the fragrance counter on eTail sites.
The good news is, optimising your digital shelf is simpler than it sounds. eCommerce moves fast, which can make the pace feel frantic, but allows for speedy updates and tweaks. Here, we reveal three points to follow if you're shaping up your digital shelf. Take these actions now, and you could even increase fragrance sales over the Christmas period.
1. Start with eTail SEO
89% of customers begin their buying process with a search engine. This is true whether they're shopping for a Christmas present or treating themselves to a bottle of their signature scent. Such a figure presents a strong opportunity for brands to reach beauty shoppers, and SEO has become an invaluable tool for helping brand.com sites rank high on Google.
Less well-known but just as important is eTail SEO. By this, we mean gaining high rankings on a third-party eTailer's internal search engine. While some don't have set rules in place for climbing to the top of the results page, others use search algorithms that may impact your potential on-site traffic.
Speak to eTailers about their internal SEO to try and gauge what makes their search engine 'tick'. In other words, how can you rank high for 'floral perfume' or 'women's fragrance'? If they do have an algorithm, you can maximise the digital shelf with targeted KPIs. Here are four steps to follow for eTail SEO:
Enquire about the most popular searches on your chosen eTail site. This helps you define the SEO keywords with the highest opportunity.
Map these keywords to your product pages. Select them based on how the searches align with the properties of each scent. Then, build them into your on-page copy.
Avoid 'keyword stuffing'. Search terms should be integrated seamlessly – preferably by a beauty copywriter with expertise in both fragrance and SEO.
These search terms don't just belong in body copy; strategic placement of keywords in titles, image titles, metadata and subheads may also be crucial for increasing the chance of ranking.
2. Take Your Content Further
Building SEO keywords into your copy is just the beginning for content. In the absence of in-store tester strips, it's down to visuals and copy to create an experience akin to spritzing a new perfume. Evocative, informative, persuasive content tells the consumer what the scent smells like, how it will make them feel, and why they need it – all in the space of a few seconds.
And, yet, 39% of the fragrance products we have tracked only show one image on their product page. A single packshot that displays the bottle, but tells you little of the juice inside. 60% of shoppers say they need to see at least 3-4 visuals before making a purchase, proving the importance of images on the digital shelf.
Additionally, we found that 87% of products do not have a video on the product page, despite a study revealing that a video on the landing page can increase conversions by 80%. This means that something as simple as uploading campaign videos may give sales a boost. For fragrance marketers in need of eComm asset inspiration, look to this checklist of content to include:
High-quality packshots showing key details of the fragrance bottle
Visuals that clarify line extensions if you have different versions of a scent (such as eau de toilette, Eau de Parfum and cologne intense)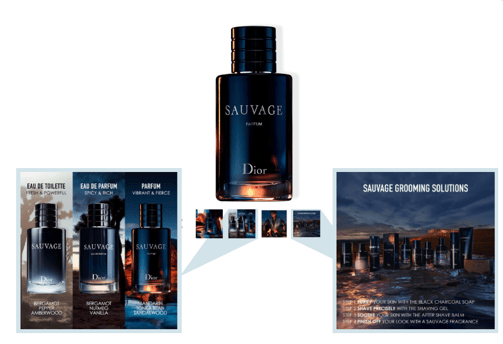 Scene-setting model images
Texture stills showing fragrance notes
Campaign videos
3. Include Ratings and Reviews
It goes without saying that ratings and reviews have a big influence on customers' buying decisions. When they can't spray and test a scent in person, they rely on the experience of other shoppers. However, 50% of the products we track have no ratings, while only 13% have more than 20 reviews.
To put the importance of reviews into further perspective, Spiegel Research Centre found that products with at least five reviews are 270% more likely to be bought. Meanwhile, for pricer products – such as a premium perfume – adding reviews to the page can increase by 380%.
Of course, it's not as simple as having reviews on your product pages. The quality of those reviews will also affect how your fragrance is perceived. Not all reviews are genuine, and if marketers suspect fake ratings are appearing, it's important to reach out to eTailers and find a solution. The best way is by looking into new review systems that filter out inaccurate ratings. Or, if your brand.com site already has a reliable programme in place, ask to link that feed up to your eTail product pages.
One More Thing…
Tracking stock levels is crucial, too. When enticing shoppers to a product page, you don't want them to be faced with an 'Out of Stock' banner, which leads to a direct loss in sales. Read all about how to measure online fragrance stock levels during the holiday period, and why perfume brands should rethink online allocation this Christmas.