In the beauty world, the number of TikTok success stories is ever-expanding, with more and more brands experiencing high sales figures off the back of strong engagement on the platform. The latest to hit headlines is Ctzn Cosmetics, whose website crashed after influencers Mikayla Nogueira and Erin Dugan Jurchak posted about the brand's nude lipstick line and digital shade-matching tool. What followed was a sales spike of 12,348.3%, reports Ctzn Cosmetics, in further proof that, when it comes to TikTok, high engagement really can mean higher sales.
But how do other brands make a similar impact? Step one is understanding how to approach TikTok – and a key part of that is knowing what your competitors are doing on the new platform. Those competitors might be unexpected, and different to the brands you track on Instagram. Alongside famous power players, indie favourites – such as Glow Hub and LA Girl – are enjoying a high volume of TikTok coverage.
In fact, through the months of August and September 2021, mmi data reveals that both brands achieved top 10 status for earned media value (EMV) on TikTok. Cult-classic makeup brand Beauty Blender came in at the number one spot, with an earned media value of £428,774. Meanwhile, drugstore skincare stalwart CeraVe followed close behind with a £390,000 EMV. Also on the list was Makeup Revolution, ColourPop Cosmetics and Charlotte Tilbury.
Top 10 beauty brands on TikTok through August and September 2021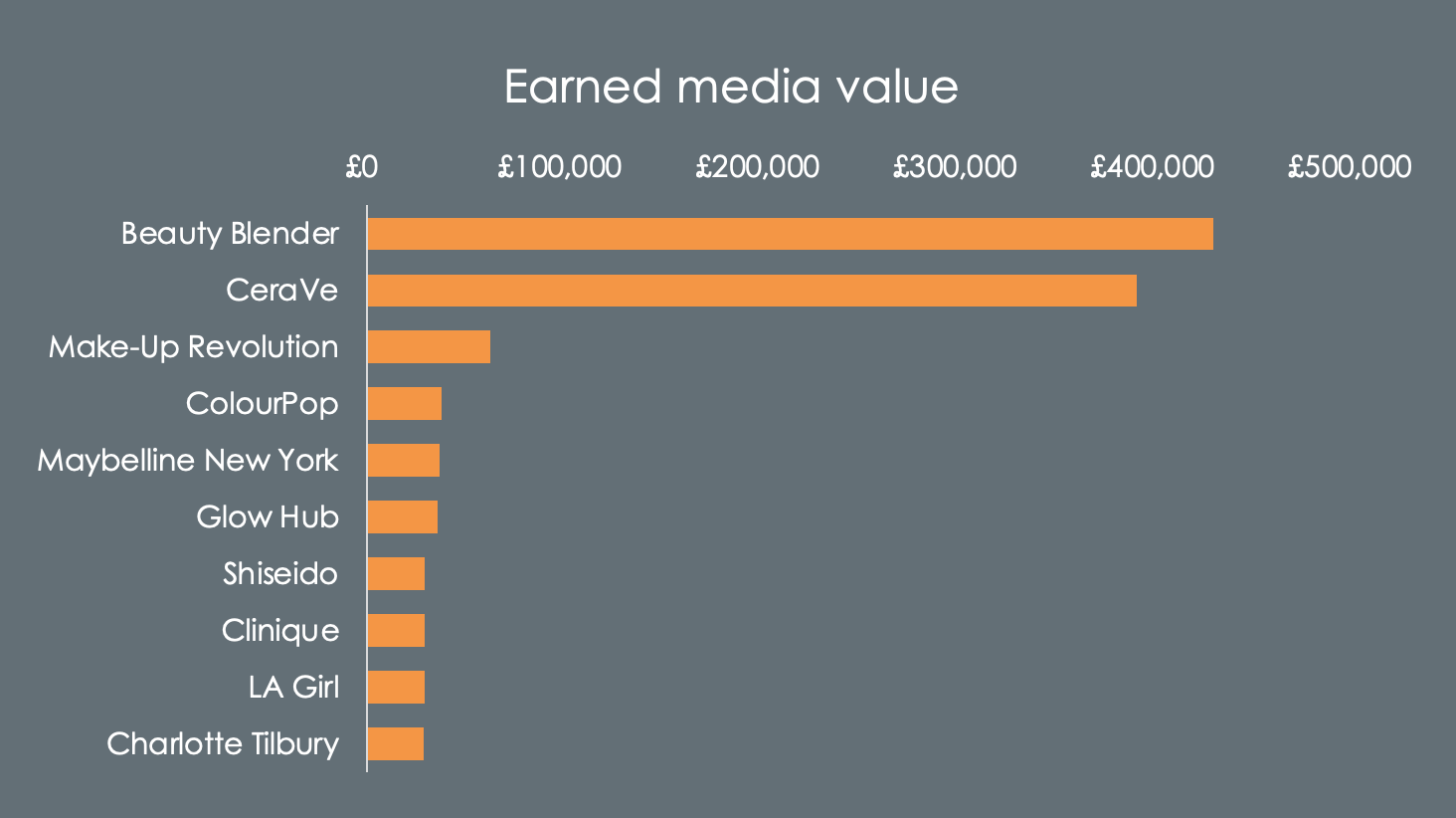 These high figures have been achieved by only a handful of posts from popular TikTokers. The authentic feel of the platform and its content is giving brands phenomenal purchase power. And there's a clear correlation between the top-performing brands and the highest-ranking influencers, with CeraVe's number two spot coming courtesy of posts by Danielle Marcan and Abby Roberts.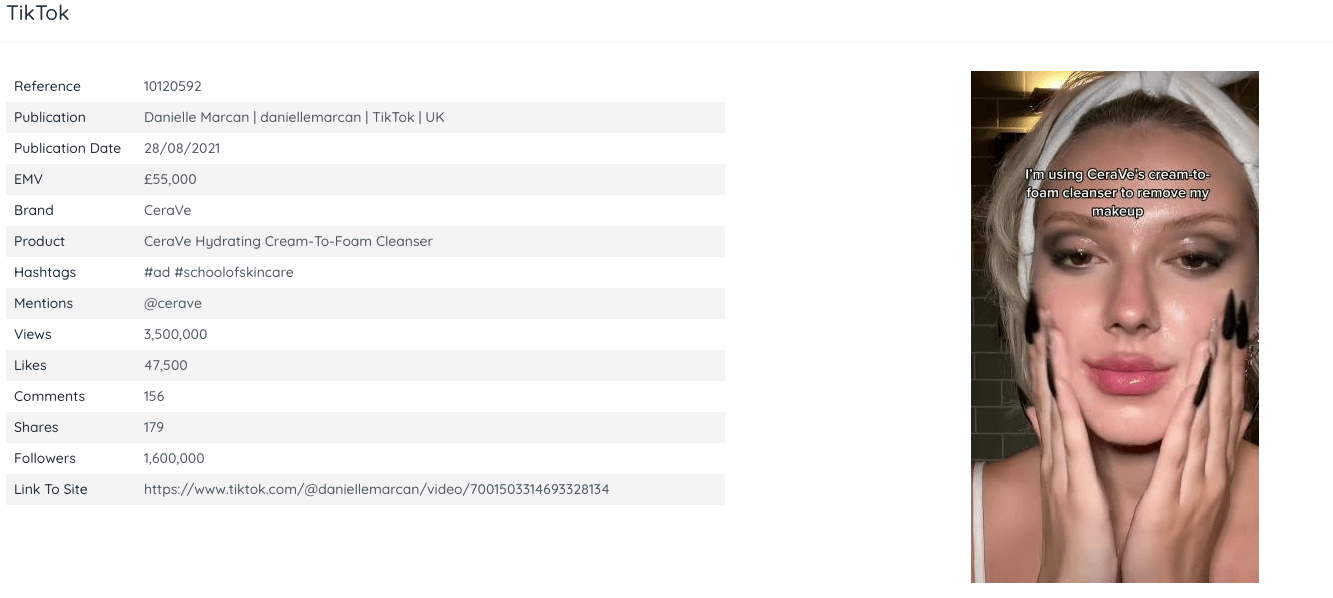 In our list of TikTokers with the highest EMV through August and September, the beauty gurus ranked in positions two and three respectively. Other top beauty influencers over this period include Leanne Walker, with an EMV of £543,921, and Jacinta Spencer, with a £36,204 EMV.
Top 10 beauty influencers on TikTok through August and September 2021

CeraVe also held the top five spots for products with the highest EMV during August and September, with their newer Hyaluronic Acid Serum garnering high praise alongside long-established skincare essentials, such as the Hydrating Cream to Foam Cleanser. The brand is so popular on the platform that Vogue even published an article titled 'Why TikTok Made Me Start Buying CeraVe Again'.
Other high-ranking products include Maybelline New York SuperStay Matte Ink Liquid Eyeliner and Anastasia Beverly Hills Brow Freeze. The lesson here is clear: your products don't need to be new to be buzz-worthy on TikTok; users are simply looking for beauty buys with demonstrable benefits that trustworthy influencers love.
Top 10 beauty products on TikTok through August and September 2021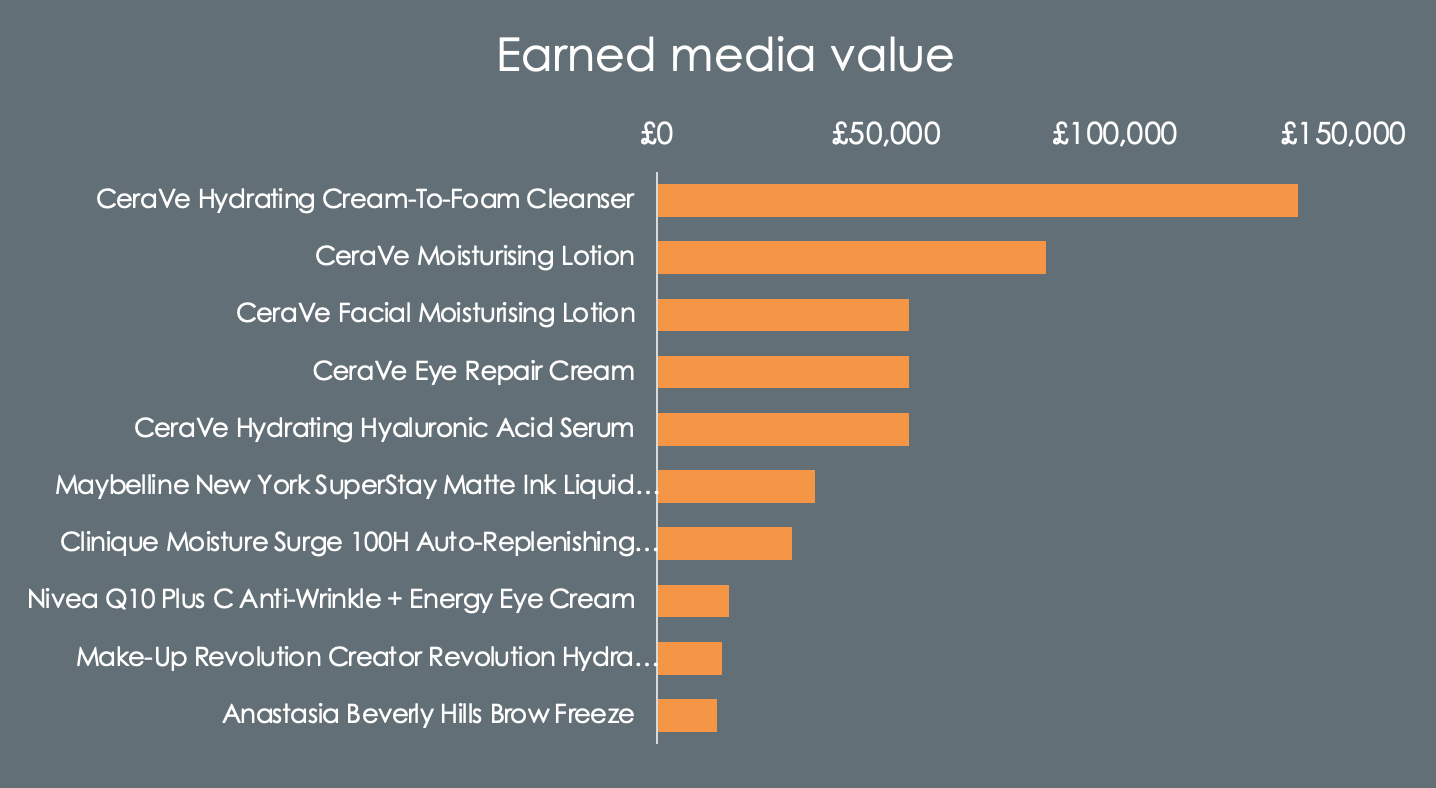 Benchmarking on TikTok is not something that enough beauty brands are doing as yet, but it's crucial to success – especially when crafting PR and influencer strategies. By seeing who your competitors are working with, what EMV they're achieving, and how influencers talk about their products, you can better understand how to approach your own TikTok activity.
To find out more about how mmi can help, book a demo above. We can also help you expand your influencer marketing and achieve better ROI with a free list of the top 10 influencers for your brand.