In an already competitive landscape, landing a prominent advert on a retailer site during the Black Friday weekend is a monumental goal for many beauty brands. It's during this period that beauty sales see exponential growth (last year, by 46% online), and putting your brand front and centre is key to gaining high-value market share.
But, how do you know what kind of visibility you should be aiming for? One tactic is to look at your competitors, so you can understand how much they're investing and where. That's why mmi collects data from top beauty retailers in each market; so beauty brands can analyse competitor behaviour, and refine their future co-op ad strategies accordingly.
The figures are now in for Black Friday 2021. Keep scrolling to discover the top beauty advertisers on retailer sites across the UK and Germany during this period…
Top 5 Beauty Co-Op Advertisers in the UK
In a new sign that Puig is placing big bets on Paco Rabanne, the luxury brand – known for its XS and 1 Million scents – claimed the number one spot for Black Friday beauty advertising in the UK. This follows news that Puig has set its sights on sales of €1 billion for Paco Rabanne by 2025, with fragrance set to account for a large proportion of the fashion stalwart's revenue.
The brand was closely followed by a host of fellow fashion-meets-beauty powerhouses, including Jimmy Choo, Dior, Gucci and Yves Saint Laurent (in that order). Tempting consumers with an accessible dose of couture, these perfumes make popular gifts ahead of the busy festive period.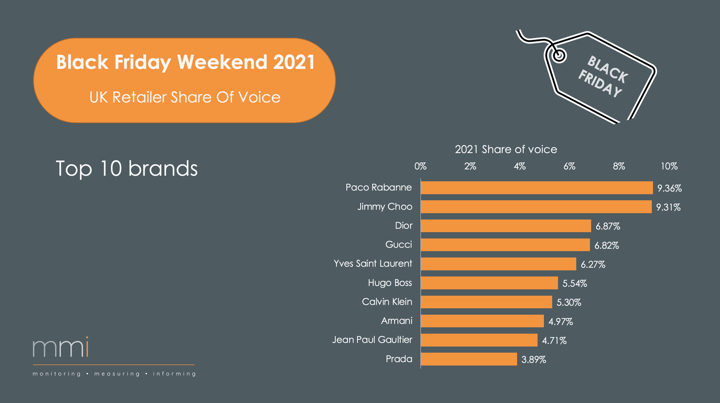 Top 5 Beauty Co-Op Advertisers in Germany
In Germany, similarly to the UK, the brands with the highest SOV were fashion power players, albeit with different perfumes. Armani Beauty came in first place with the highest ad investment, while Jil Sander came second; a fragrance brand that's hard to come by in the UK, but widely promoted in Germany.
Close behind came Calvin Klein – purveyors of iconic unisex scents – followed by a flourish of floral notes from Chloé perfumes. But the stand-out brand in the top five was Guerlain, which came in fifth position as the only brand not borne from couture beginnings, but still with a luxurious flair, founded in Paris.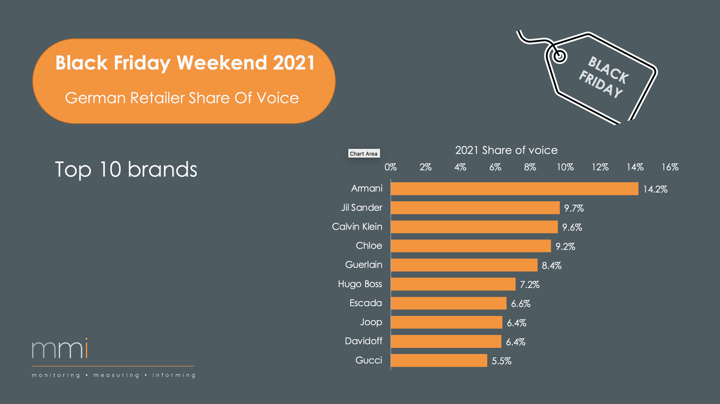 Track Your Competitors
This is just a snapshot of ad performance across Black Friday 2021. To truly drive ecommerce excellence, it's important to look at data on your competitors at key consumption periods to explain why your sales results were as they were.
Co-op advertising visibility is a crucial element of the online sales process. By putting your activities in context, you can plan more effectively for future activities.
Up next: Discover 5 of the key reasons your beauty co-op ads might be failing on retail sites.