It's official: beauty advent calendar season has arrived, and this year, the festive door-opening is more luxurious than ever before. mmi data reveals that a grand total of 247 beauty advent calendars have been mentioned in the media since June 2022, with everyone from Cult Beauty to Jo Malone vying for the title of most covetable calendar.
But which brands and retailers are coming out on top so far? Based on the number of UK media mentions between June 1st and November 1st 2022, the top 20 beauty advent calendars are: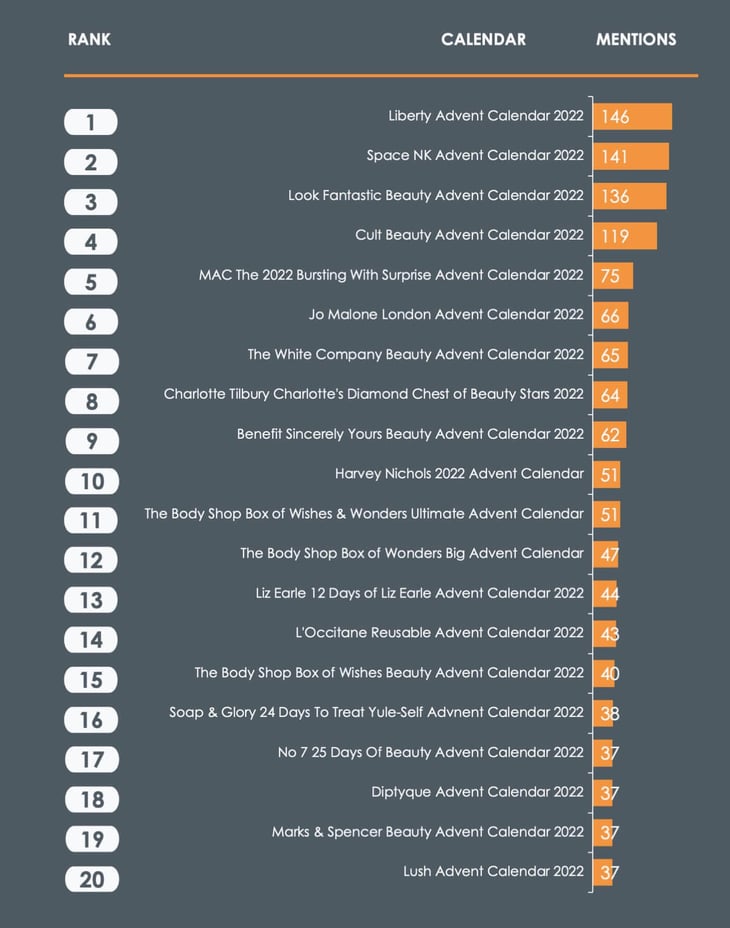 Multi-brand calendars are topping the charts
The four advent calendars that have been featured most in the media were all made by beauty retailers, indicating that consumers may prefer opening up a mix of brands.
The number of calendar mentions has decreased
While beauty advent calendars are still popular with media and consumers, the number of mentions for them has reduced this year. There have been 14% fewer calendar mentions compared to the same period in 2021.
Online publications are building the most excitement
When we look at the top media types that mention beauty advent calendars, online publications come in at number one. Here's the ranking: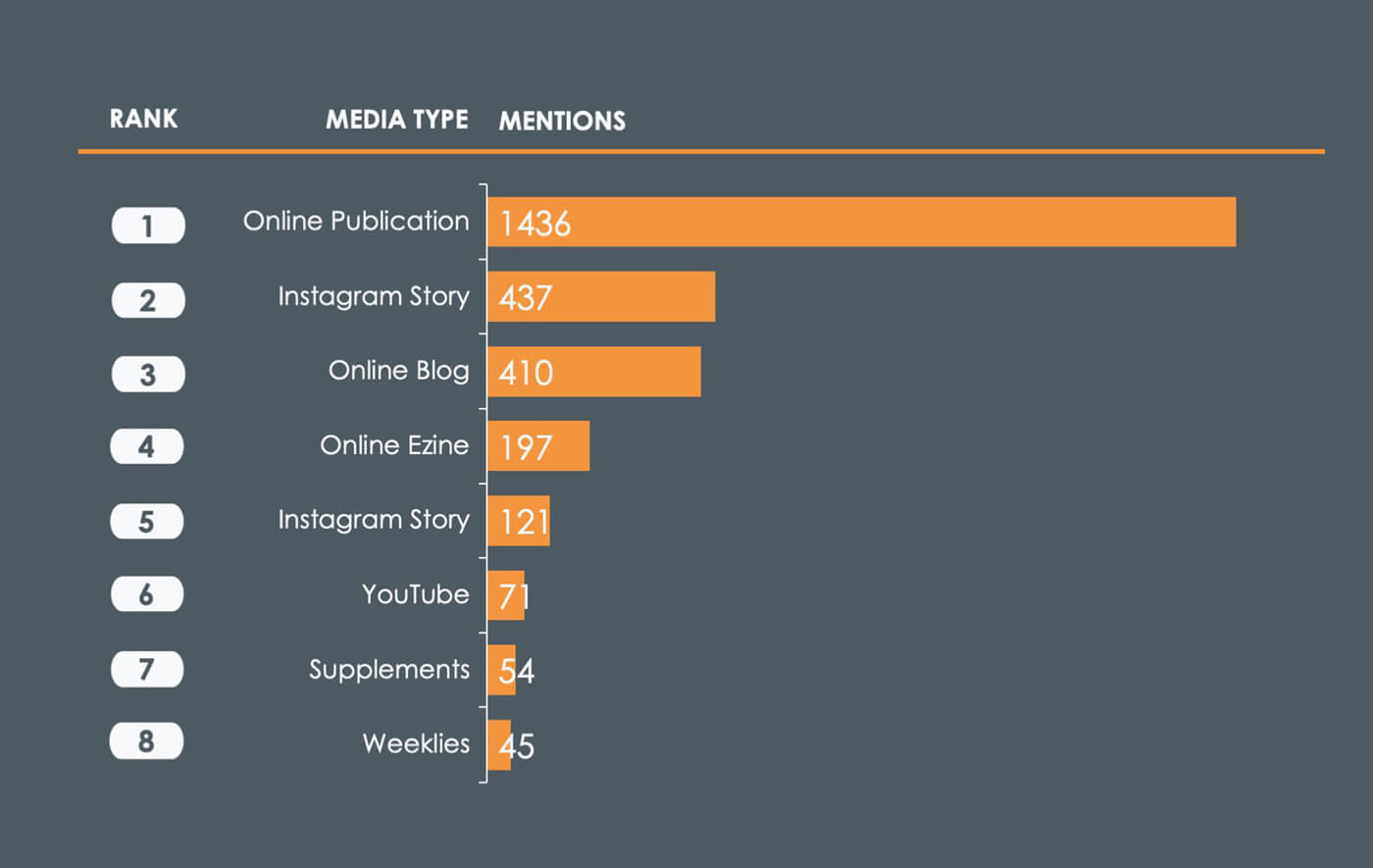 The online publications that talk about beauty advent calendars the most include Beauty Queen UK, Marie Claire Online, Glamour Online and Women's Health Online. These publications have been responding to demand, as Google Trends shows that searches for 'beauty advent calendar' started to rise from June onwards.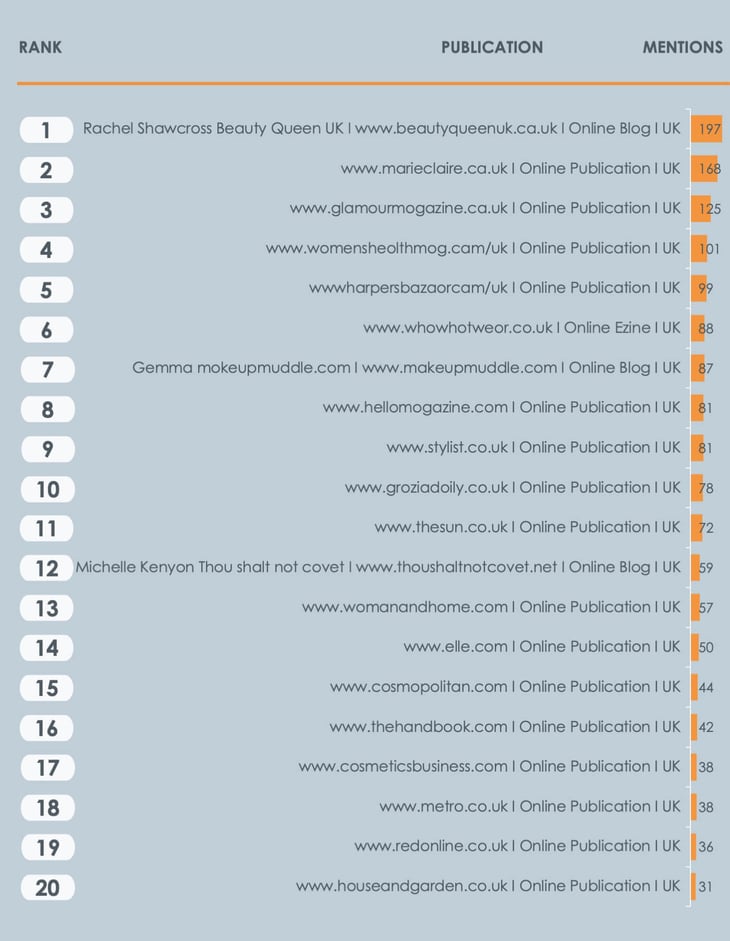 A look inside the 10 most mentioned beauty advent calendars
Wondering what makes the 10 most mentioned advent calendars so covetable? The mmi team takes a look inside…
1. Liberty Beauty Advent Calendar
Overflowing with skincare, makeup and hair care discoveries from Liberty's famed beauty hall, this advent calendar is a veritable Christmas icon. Behind the illustrated doors, treats from Votary, Trish McEvoy, REN Clean Skincare and more can be found, making it a staple for the discerning beauty lover.
Image Credit: Liberty
2. Space NK Beauty Advent Calendar
Like the Liberty advent calendar, Space NK's offering serves up a bevy of must-have beauty brands. From Charlotte Tilbury to Caudalie to Drunk Elephant, its pink and red packaging holds a mix of classic and new discoveries. Having eyed up spoilers, it's easy to see why this brimming box has received the second most media mentions this year.
Image Credit: SpaceNK
3. LookFantastic Beauty Advent Calendar
LookFantastic's beauty advent calendar has been generating plenty of excitement this year, thanks to surprises from the likes of Elemis, Philip Kingsley and ESPA – plus a more affordable price point. While other etail giants are pricing their own advent calendars at £200+ on average, LookFantastic's costs £95 for more than £500 worth of product.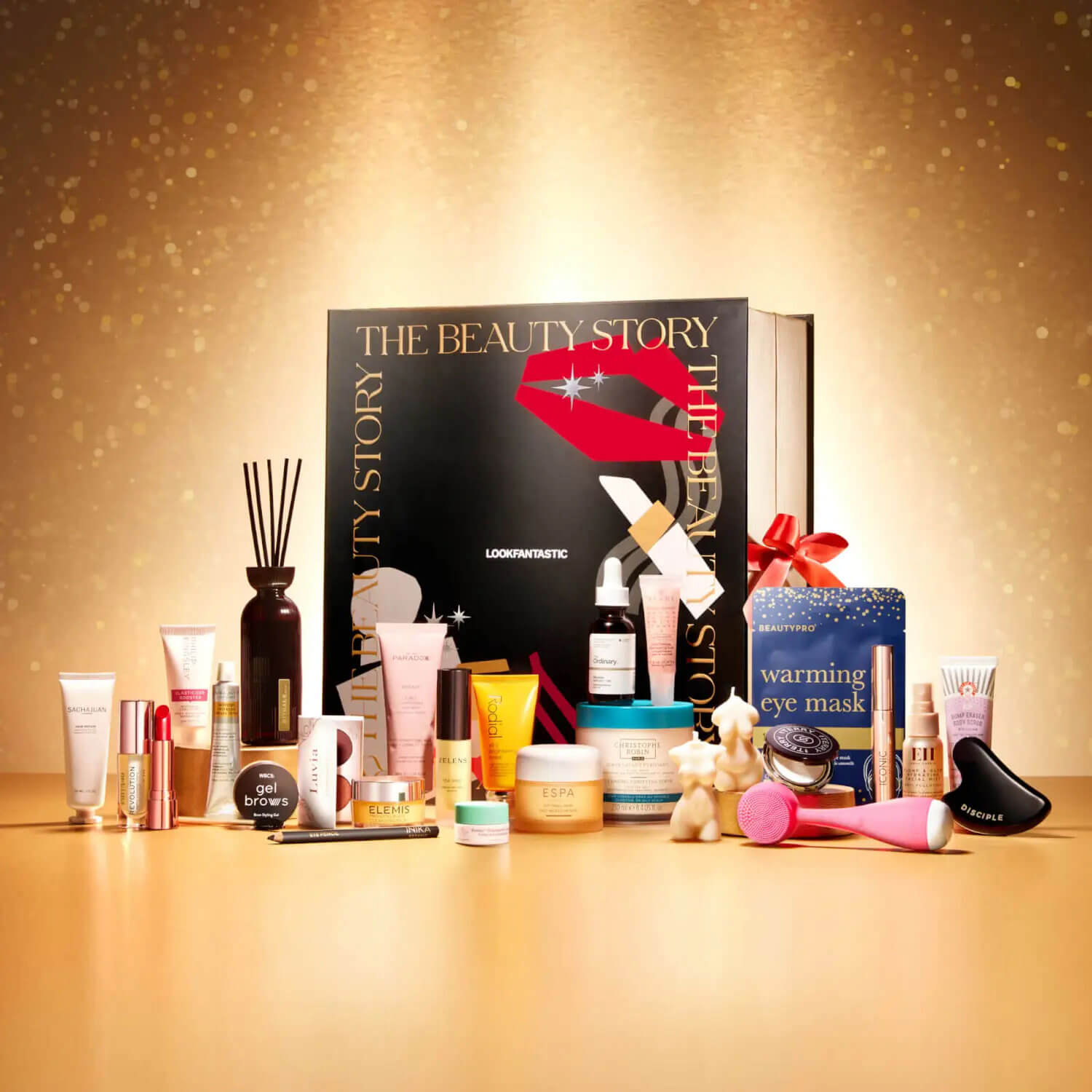 Image Credit: LookFantastic
4. Cult Beauty Advent Calendar
Another retailer makes it to the top. This year, it's multi-brand calendars receiving the most attention, with Cult Beauty's treasure trove of treats coming in at number four. The store is famed for its niche brand line-up, so beauty lovers can expect to find power players and up-and-comers alike in this pastel dream of a calendar.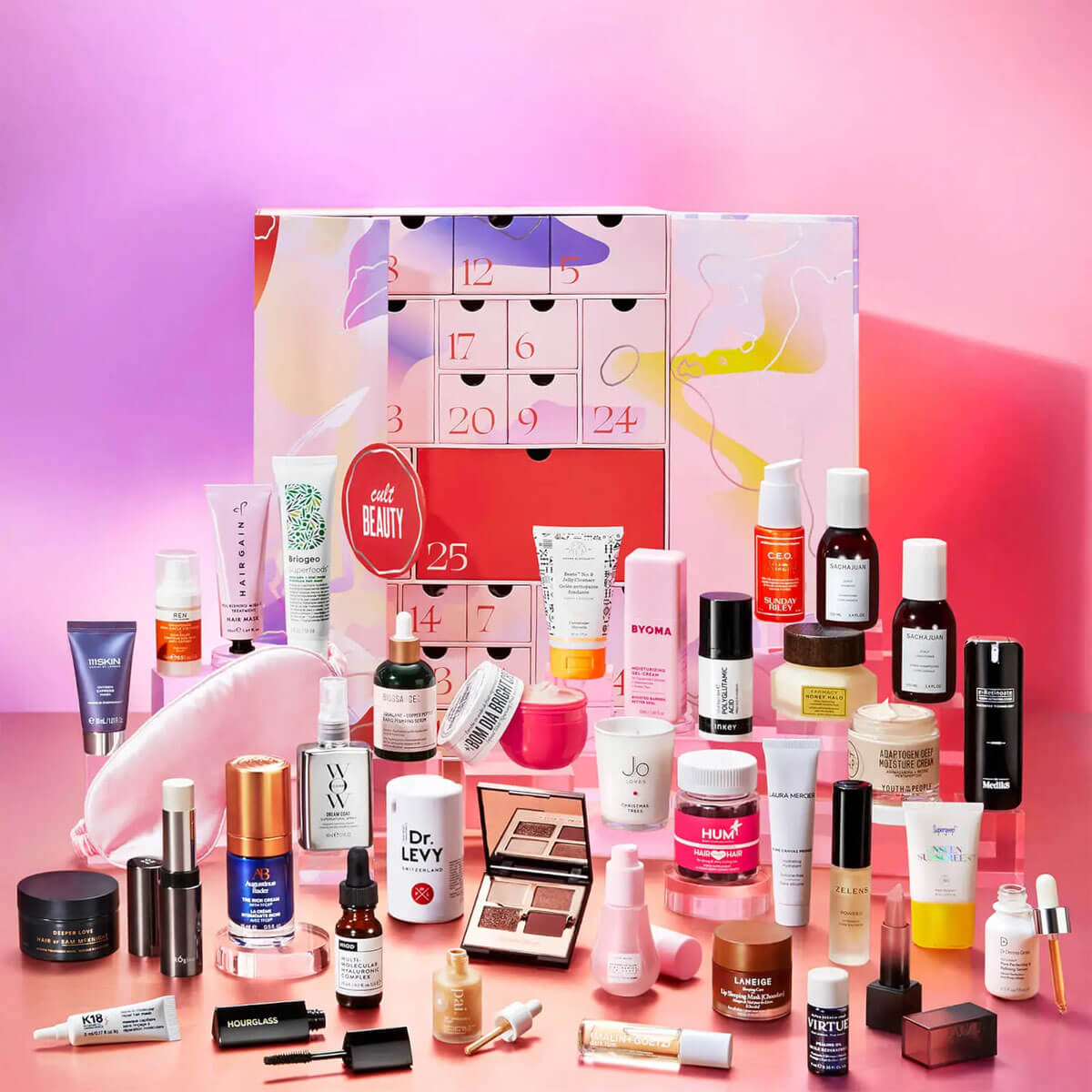 Image Credit: Cult Beauty
5. MAC Cosmetics The 2022 Bursting With Surprises Advent Calendar
With a name like 'Bursting With Surprises', how could the MAC Cosmetics calendar not be a hit? This year, they've packed the cylindrical red and gold box with 24 indulgent treats, including 16 full-size products. Colours are on the wearable side – think nude and red lipsticks and neutral eyeshadows – so everyone can enjoy the makeup must-haves inside.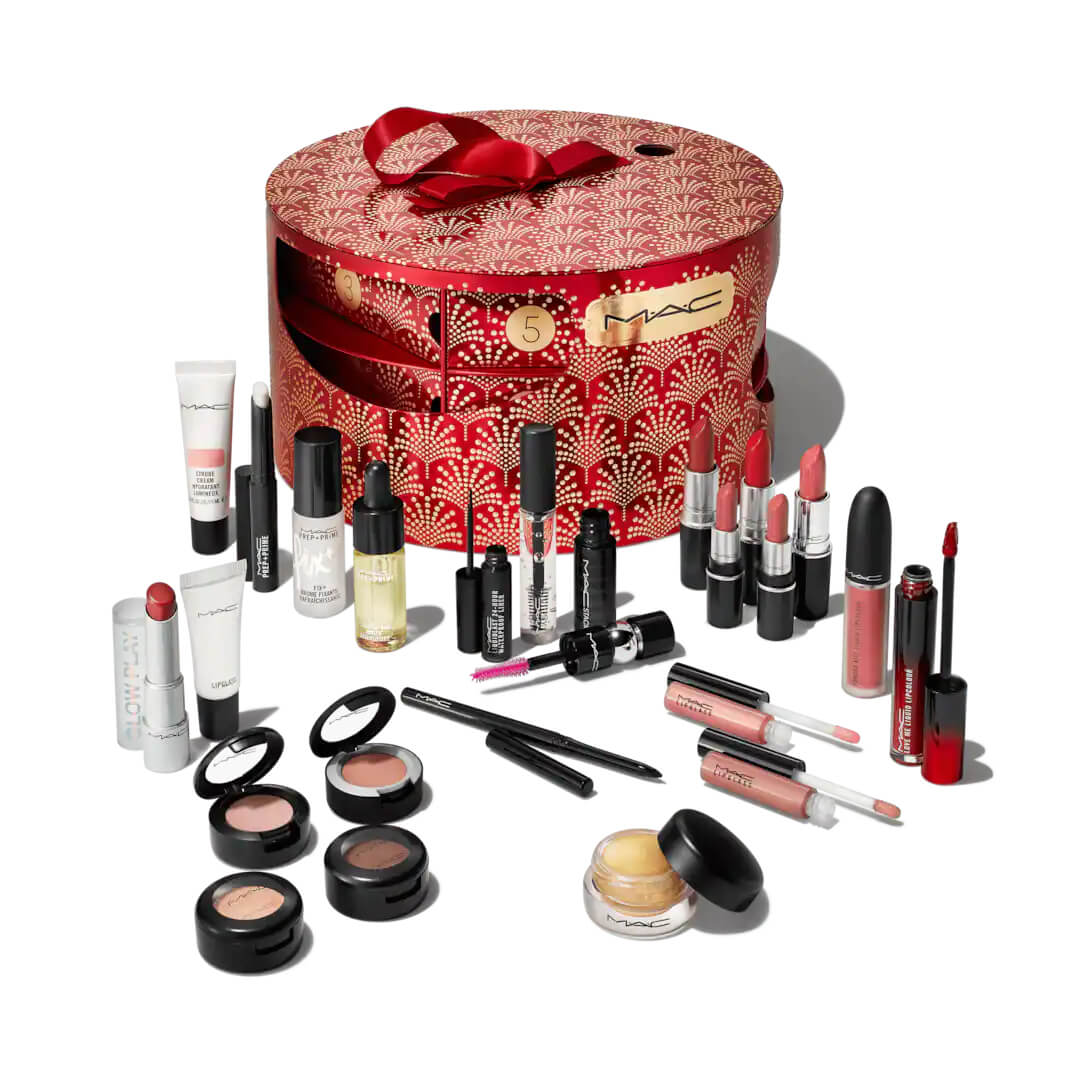 Image Credit: Mac
6. Jo Malone Advent Calendar
As beautiful as it is luxurious, the Jo Malone advent calendar is housed in a two-tier chest this year, with a mix of candles, colognes and body care behind the doors. Scents range from their signatures, such as Lime, Basil & Mandarin, to festive exclusives, including White Moss & Snowdrop. There's even a decadent Jo Malone snowglobe waiting to be revealed.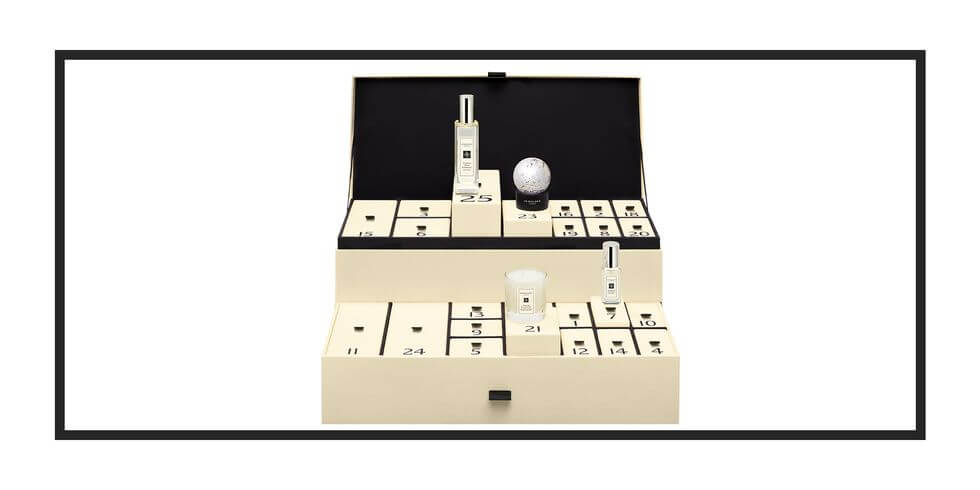 Image Credit: Jo Malone
7. The White Company Beauty Advent Calendar
This one feels like a true treat. The White Company is selling a lifestyle with their beauty collection; softly scented and sophisticated to create a soothing ambience. Their advent calendar packs in the very products that set the scene, including spa-inspired body balms, winter spice candles, and even a white jade gua sha.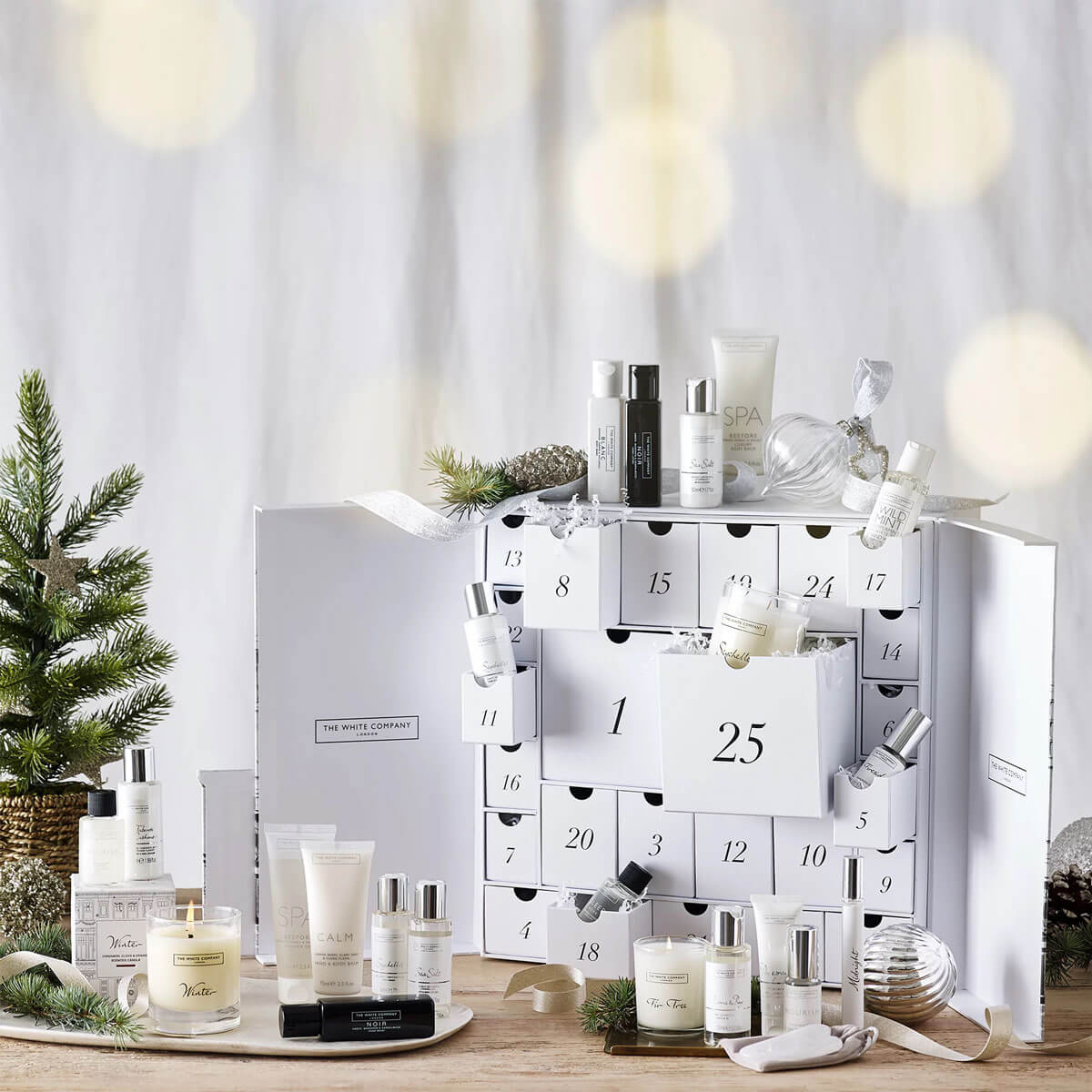 Image Credit: The White Company
8. Charlotte Tilbury Diamond Chest of Beauty Stars
As glitzy and glamorous as one might expect from Charlotte Tilbury, the Diamond Chest of Beauty Stars advent calendar pays homage to the makeup artist's most iconic products. It's one of the smaller calendars in the top 20, with 12 drawers to open, but glowing skin and makeup magic awaits those quick enough to snap one up.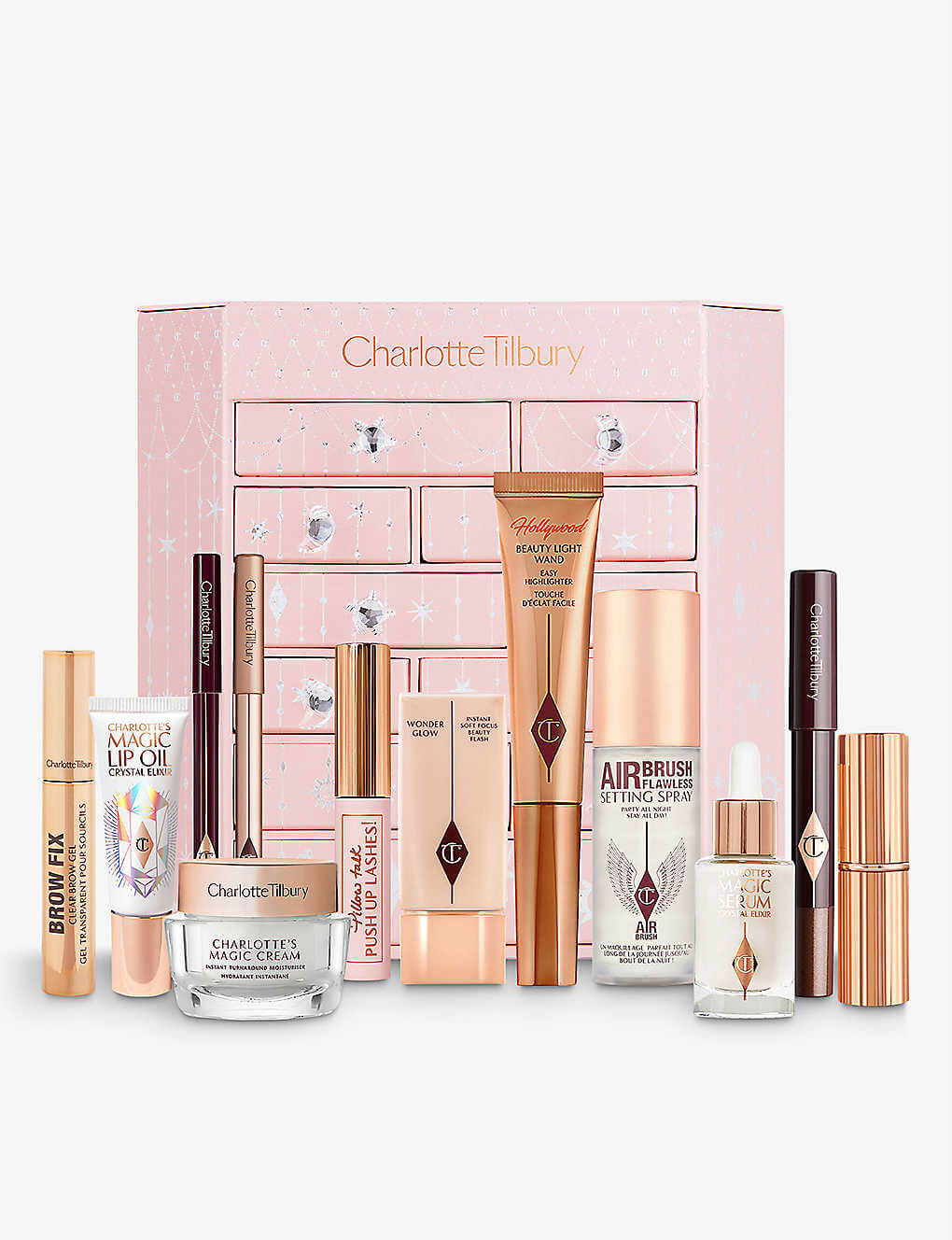 Image Credit: Charlotte Tilbury
9. Benefit Cosmetics Sincerely Yours Beauty Advent Calendar
The Benefit Cosmetics advent calendar also features 12 products; a raft of trial sizes for those who want to test new products or can't get enough of makeup minis. Doors reveal the cult-classic Hoola Bronzer, They're Real Mascara, The PoreFessional Primer and Gimme Brow Volumising Eyebrow Gel – to name just a few.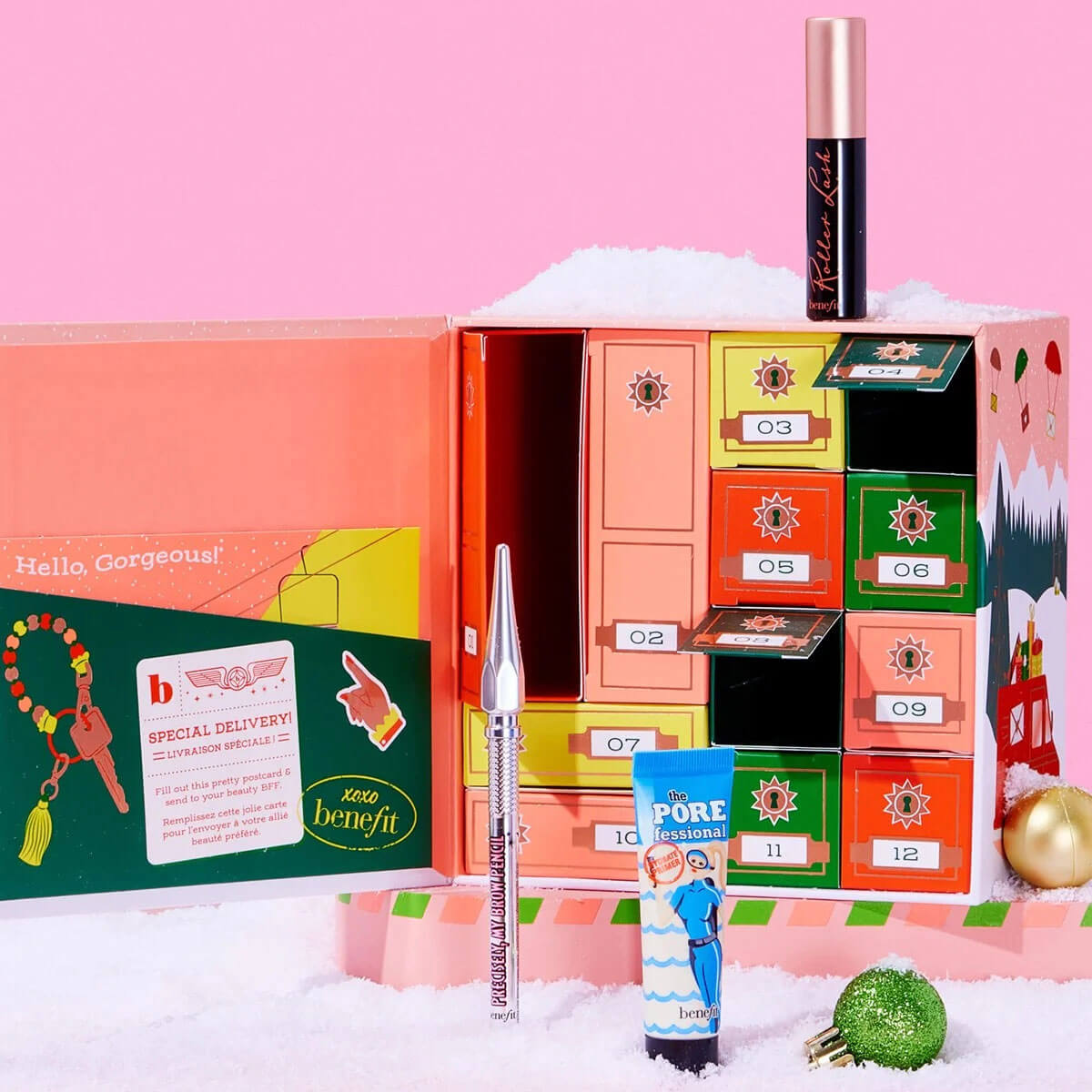 Image Credit: Benefit Cosmetics
10. Harvey Nichols 2022 Beauty Advent Calendar
Another retailer hits the charts. This time it's Harvey Nichols, with a mind-blowing beauty stash worth £1200 at a cost of £250. In terms of value, it holds some of the most expensive finds on the list, and one in 10 calendars even includes a £50 gift card. Add in the fact that there are three Fenty Beauty products inside – amongst other big-time brands – and this calendar is more than deserving of its top 10 slot.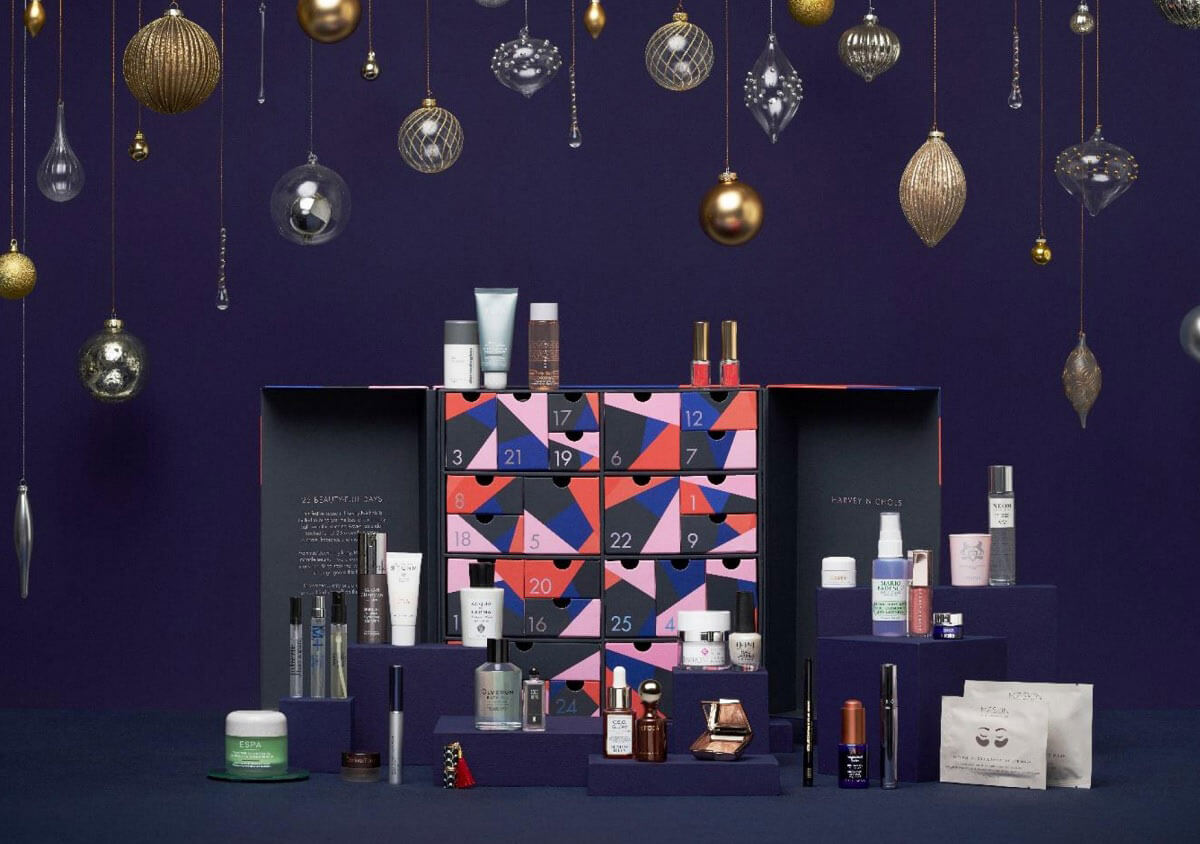 Image Credit: Harvey Nichols
To learn more about mmi media's insight report, download our H1 2022 Media wrap up report...
Up next: Discover how influencer marketing is changing in 2022 – and beyond.