How do you define the best UK beauty influencers? With so many social media metrics to track, it can be tricky to know who will truly deliver on the reach and purchase power your brand is looking for. It's no longer just about who has the largest following or racks up the highest number of 'likes'; granular data is key to identifying talent that aligns with your campaign goals.
The right media tool will help you keep on top of the ever-changing influencer landscape, so you can discover the beauty content creators that are driving performance across your chosen channels. At mmi, we are continuously tracking top talent across a range of criteria, from record-breaking reach to earned media value (EMV). Here, we reveal the top UK beauty influencers dominating the industry right now, featuring Instagrammers, YouTubers, TikTokers, and more…
The top 10 UK beauty influencers by mentions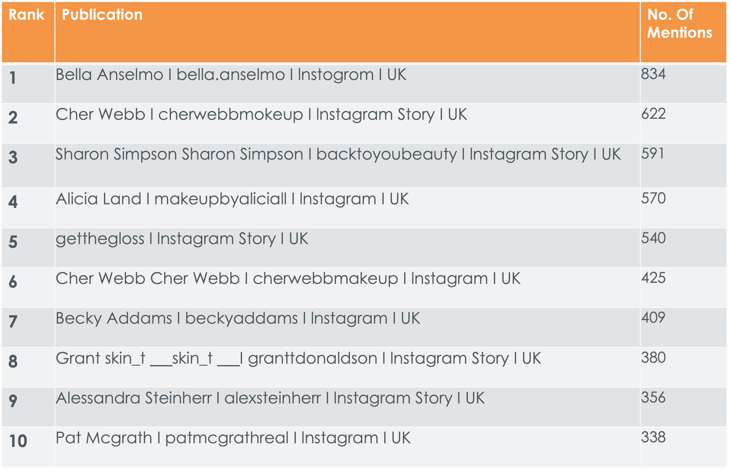 Data Source: mmi media / influencerCONNECT
If you're seeking influencers with a true passion for beauty, those with the highest number of industry-relevant mentions may be a good fit for your brand. Their love for all things skincare, makeup and fragrance can make campaigns feel more authentic, which is crucial at a time when 29% of UK beauty consumers feel more cautious about spending due to online misinformation. The talent on this top 10 list features a number of beauty experts and professionals, including renowned makeup artist Cher Webb and former Glamour magazine director Alessandra Steinherr. Makeup legend Pat McGrath and beauty ezine Get the Gloss also rank high, indicating their authority within beauty conversations.
The top 10 UK beauty influencers by EMV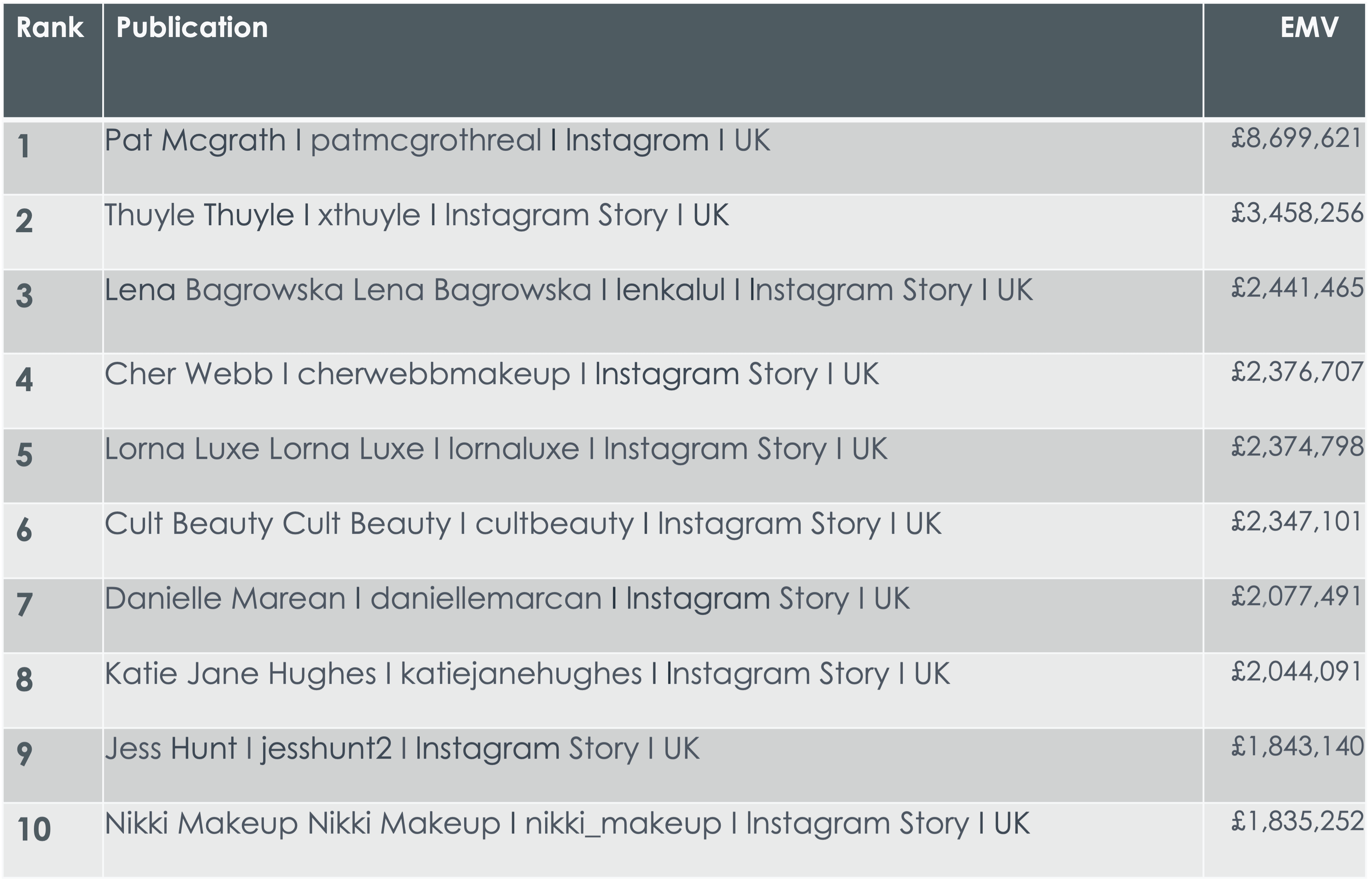 Data Source: mmi media / influencerCONNECT
It can be difficult to place a value on organic and even paid-for influencer mentions, but earned media value (EMV) helps you better understand your campaign's return on investment (ROI). The UK beauty influencers delivering the highest EMV are largely seeing results on Instagram Stories, and experts such as PatMcGrath, Cher Webb and fellow makeup guru Katie Jane Hughes feature prominently. Etail mecca Cult Beauty also appears in the top 10, reinforcing its status as a beauty store and go-to hub for tips and tricks. Meanwhile, Instagram-famous creators such as Thuy Le, Lorna Luxe and Danielle Marcan are also driving impressive EMV figures.
The top 10 UK beauty influencers on Instagram by reach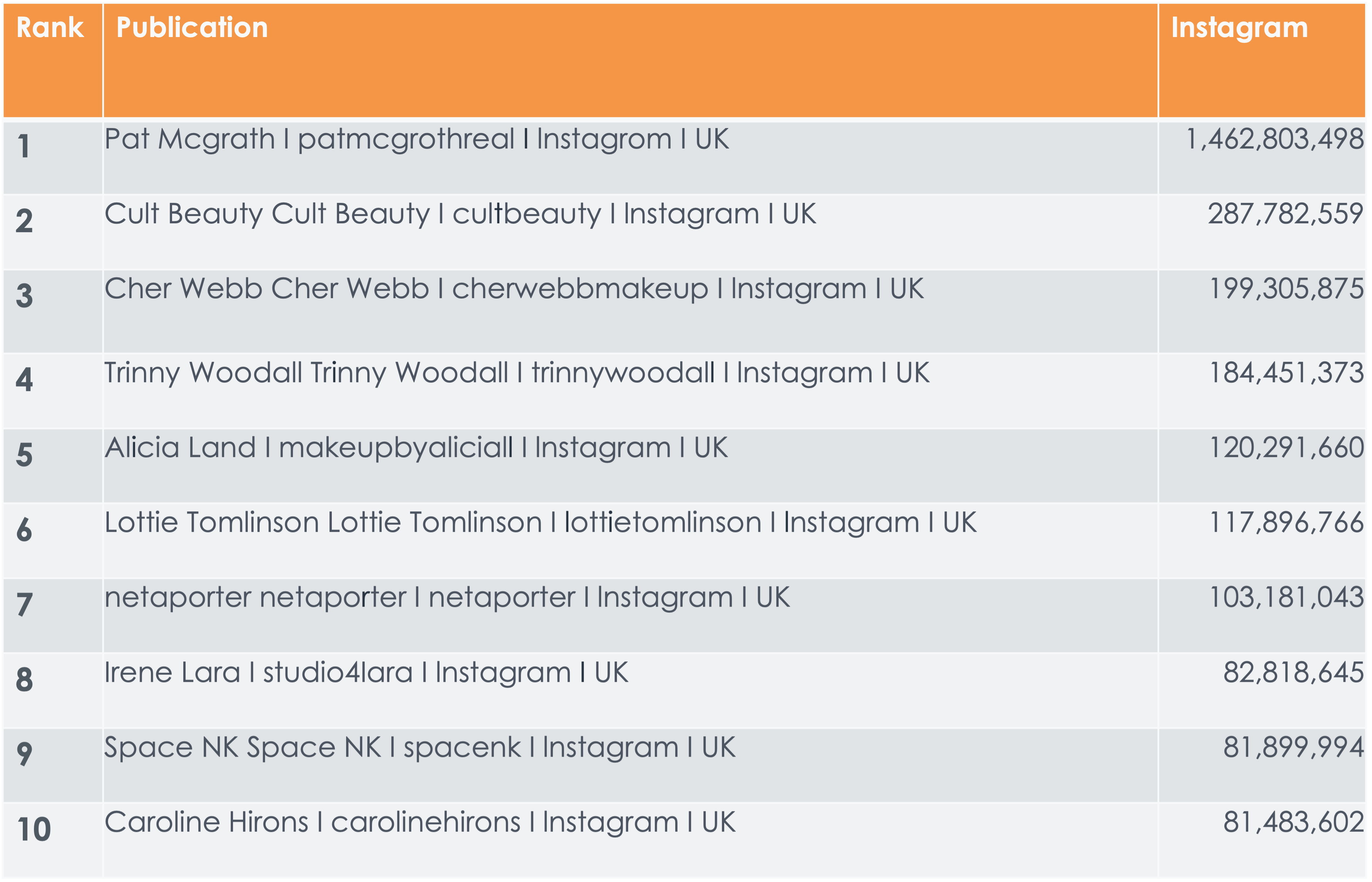 Data Source: mmi media / influencerCONNECT
Is high Instagram reach one of your top beauty campaign goals? Then using data to identify far-reaching influencers is crucial to boosting visibility. With a millions-strong following, PatMcGrath drives the greatest Instagram reach of all UK beauty influencers, followed by Cult Beauty, Cher Webb and Trinny Woodall. Net-a-Porter and Space NK also take positions seven and nine respectively, demonstrating the importance of working with your etail partners to drive awareness of your brand.
The top 10 UK beauty influencers by Instagram Stories reach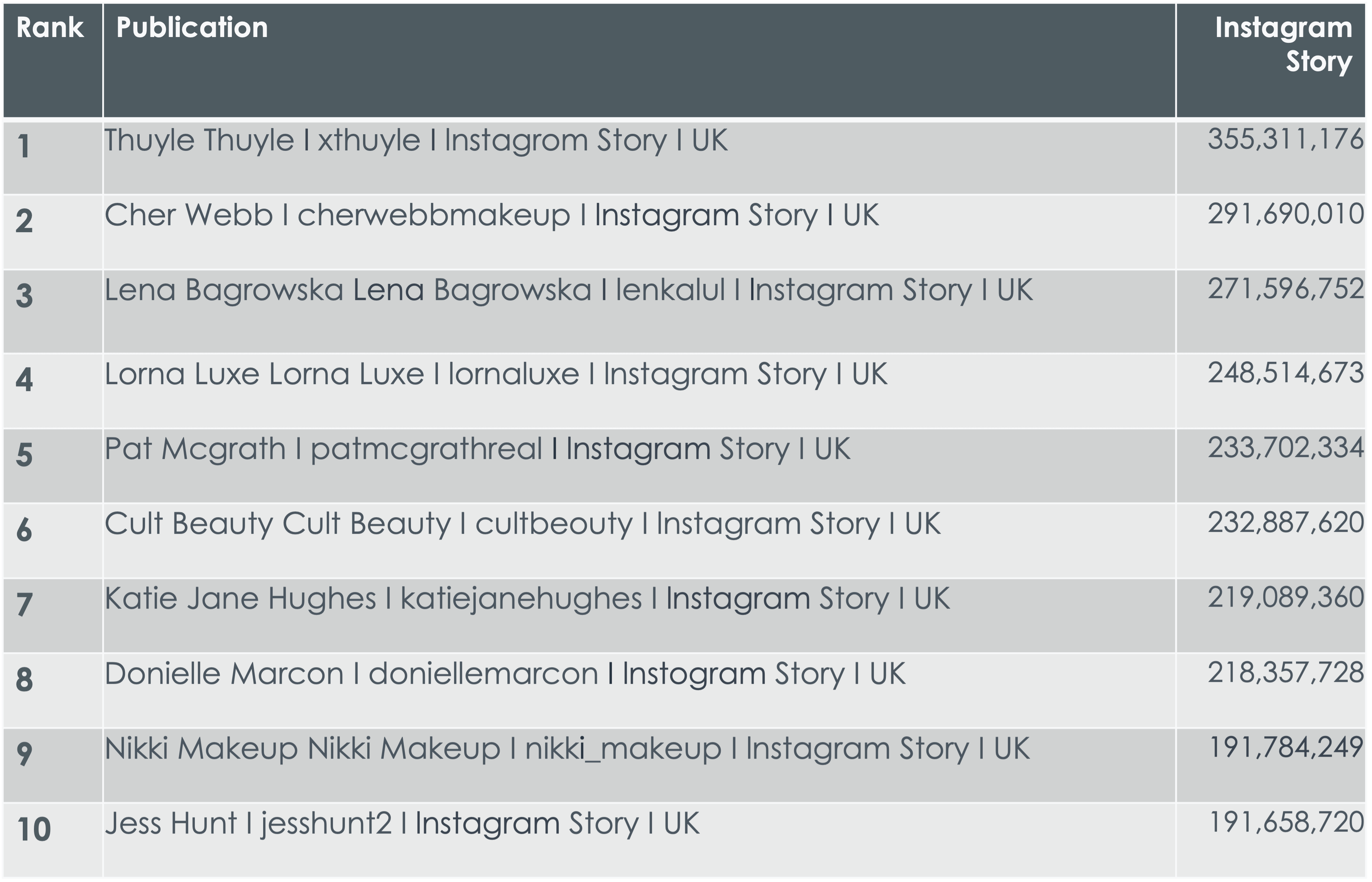 Data Source: mmi media / influencerCONNECT
Unlike the Instagram grid, Instagram Stories provides influencers with the capability to add shoppable links to their posts. Providing you collaborate with them to make the links trackable, Stories campaigns offer a relatively simple way for you to link influencer activity to a positive ROI. The creators with the highest reach on Stories differ slightly from those on the grid, with Thuy Le, Cher Webb and Lena Bagrowska taking the leading spots. However, Pat McGrath, Cult Beauty and Katie Jane Hughes still feature in the top 10, pointing to strong all-round performance on their Instagram channels.
The top 10 UK beauty influencers by YouTube reach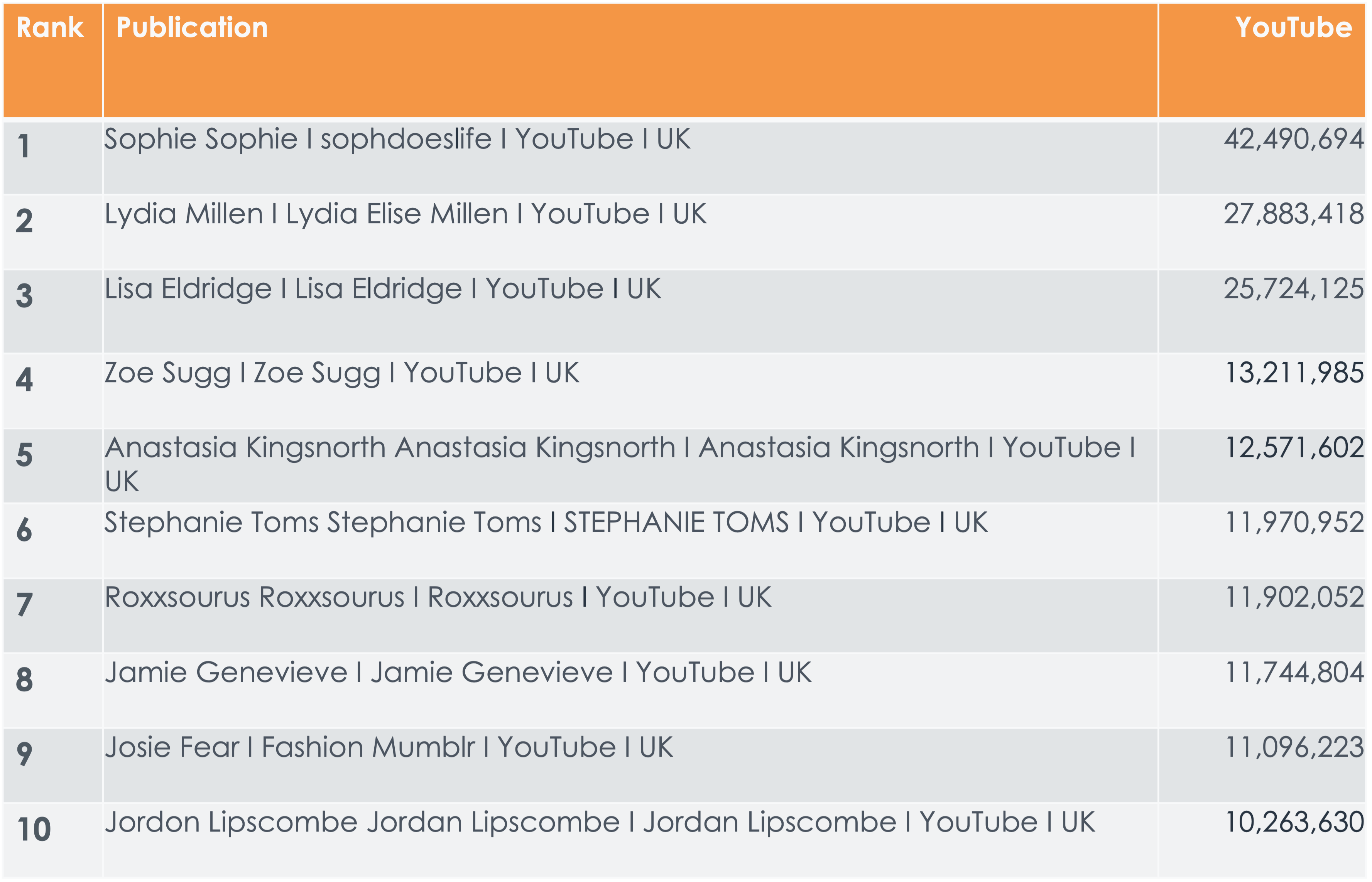 Data Source: mmi media / influencerCONNECT
The impact of beauty influencers largely stemmed from YouTube videos and, today, creators still reach large audiences on the long-form content platform. Sophie of SophDoesLife is hitting the highest figures with her fun and informative tutorials, while famous names such as Lisa Eldridge and Zoe Sugg have achieved years-long, steadfast success. Other wide-reaching influencers include Anastasia Kingsnorth, Stephanie Toms and Jamie Genevieve, who each take a creative approach to beauty content with their individual signature styles.
The top 10 UK beauty influencers in paid vs. earned vs. supported media ranked by paid mentions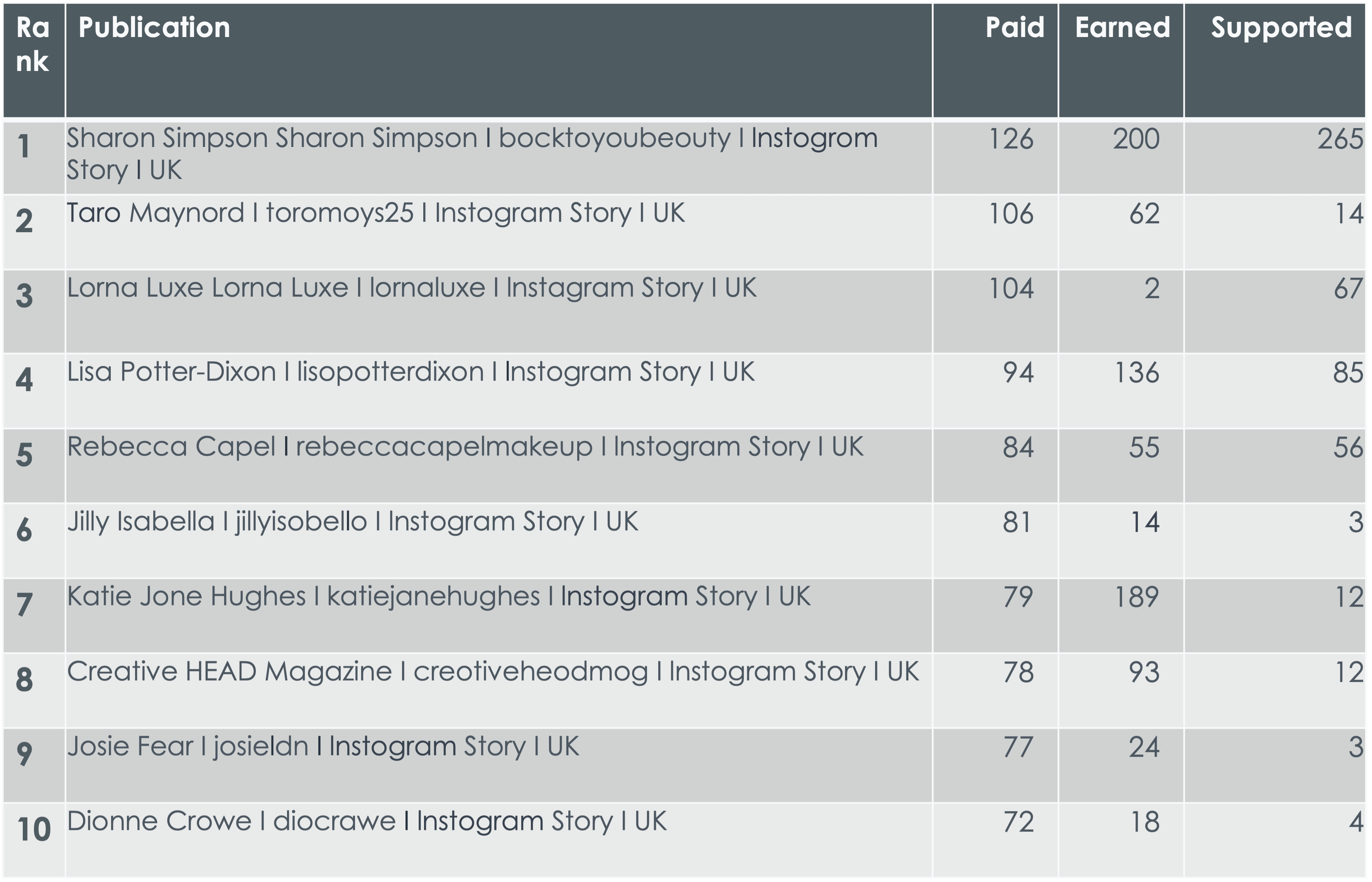 Data Source: mmi media / influencerCONNECT
When identifying influencers for a beauty campaign, it can be helpful to analyse their performance across different media types. By comparing the success of top talent across paid, earned and supported media, your team is able to tactically approach creators that align with your brand goals and the type of campaign you are running. You can also discover who is working on a high volume of paid content (#ad, #sponsored, etc.), and then explore the brands they are partnering with, to see if your competitors are present.
We hope these top 10 lists have shed some light on how media data can help you make more informed decisions when identifying beauty influencers to work with. At mmi, we track more than 1,200 brands in the UK across various marketing platforms, in order to give you a clearer view of the industry landscape. To find out more about our methodology and how our services and products can help you, book a demo below.