Over the holiday season, few gifts surprise and delight like a perfume. In fact, 30-50% of the total fragrance market's sales take place between October and December each year. It's the thoughtful present; a signature scent that the giftee always spritzes to the last drop. Or something new, chosen just for them – the notes encased in a decadently weighty bottle.
But, where there's demand there's competition, and where there's competition there's marketing tactics. That's one of the many reasons why gift sets and gifts with purchase (GWPs) double over the last quarter. Designed to entice shoppers, they tend to offer more value for money than the scent bought alone. And, by analysing how the fragrance market approaches these gifts, brands can refine their own offerings year on year.
In 2020, and the years to follow, this becomes all the more pertinent, as we embrace a 'new normal' that will reshape beauty's illustrious gifting strategies. Tracking competitors now, with an eTail tool, allows marketers to gather data for the festive period ahead, so they can make fact-based decisions on gifts for Christmas 2021 – and beyond.
Here, we reveal what you need to know about 2020's gifting landscape thus far, plus how the quality and quantity of gifts has changed in recent years…
An Evolution in Gift Sets in the Fragrance Market
In 2019, from January to September, gift sets accounted for a 7% share of the digital perfume shelf. This increased to 15-16% between October and December. By comparison, the number of gift sets has gone up by 1% between January and September 2020, but the distribution of such sets has varied greatly between eTailers.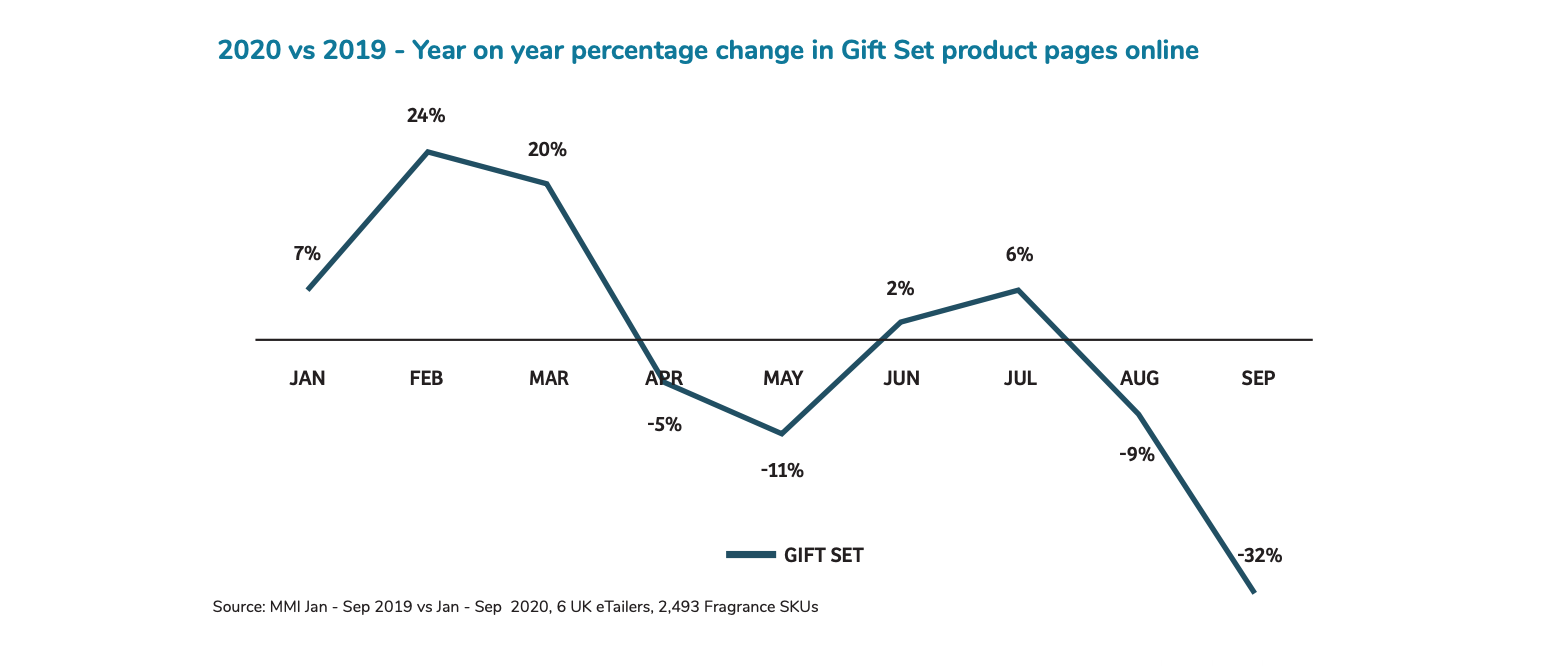 While the volume of gift sets in online Pharmacies gives this figure a boost, a -19% decrease in sets in online Department Stores has pulled overall numbers down. The amount of gift sets on fragrance eTailers has remained relatively stable, with a small -1% dip when comparing January to September 2020 with 2019.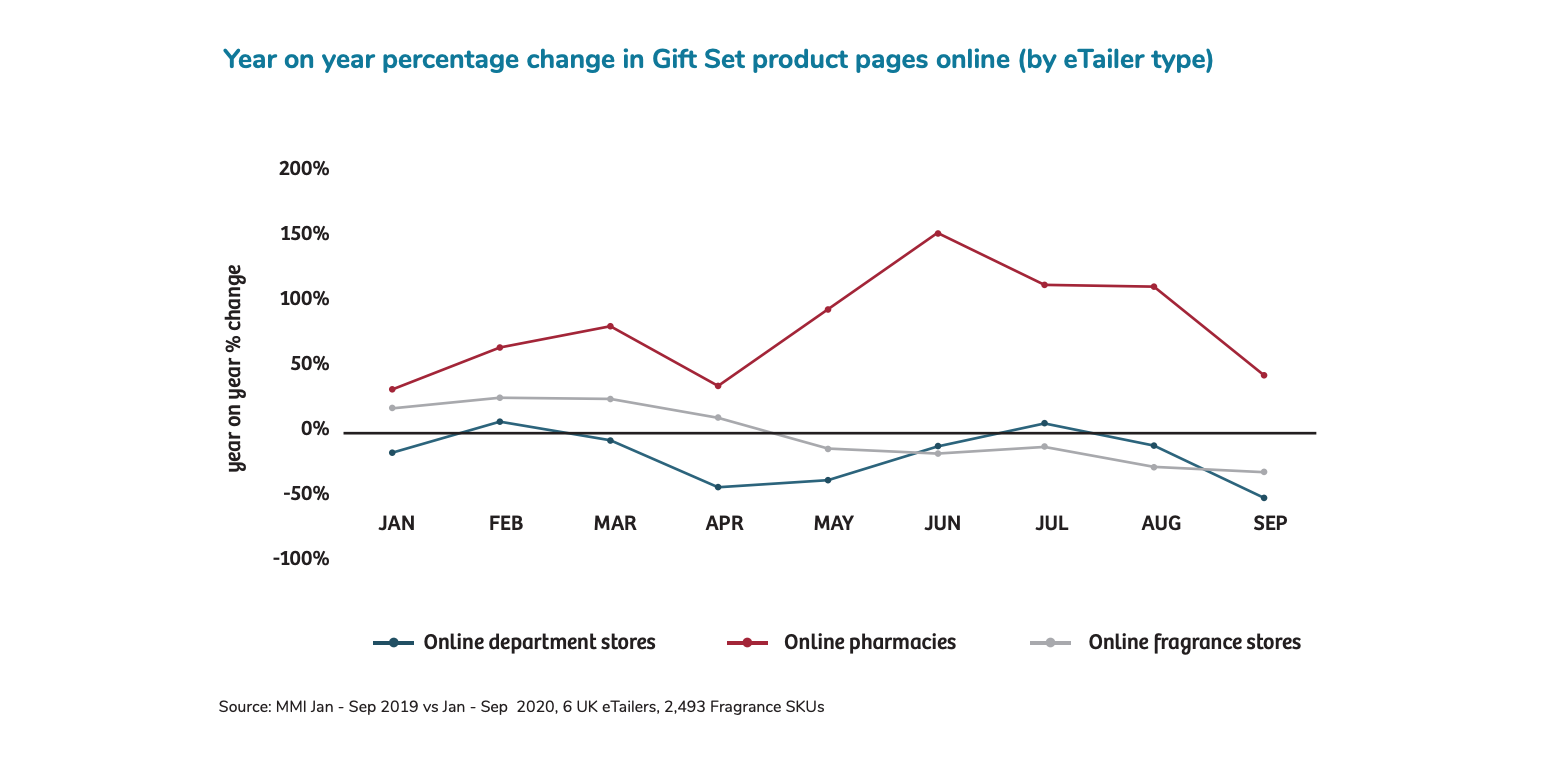 Meanwhile, over the years, the offering within these gift sets has become more competitive. Since 2018, the number of gifts included in a set has increased, with a variety of brands treating shoppers to one perfume and two or more gifts inside a single box. Beauty brands with broader product lines are also expanding their offering outside of scent, adding makeup items, candles or skincare to entice present buyers.
More recently, we have also seen a rise in the variety of miniature perfume sets offered. Strategically priced, they give customers the opportunity to buy a luxury gift within a comfortable range (usually between £20 to £35).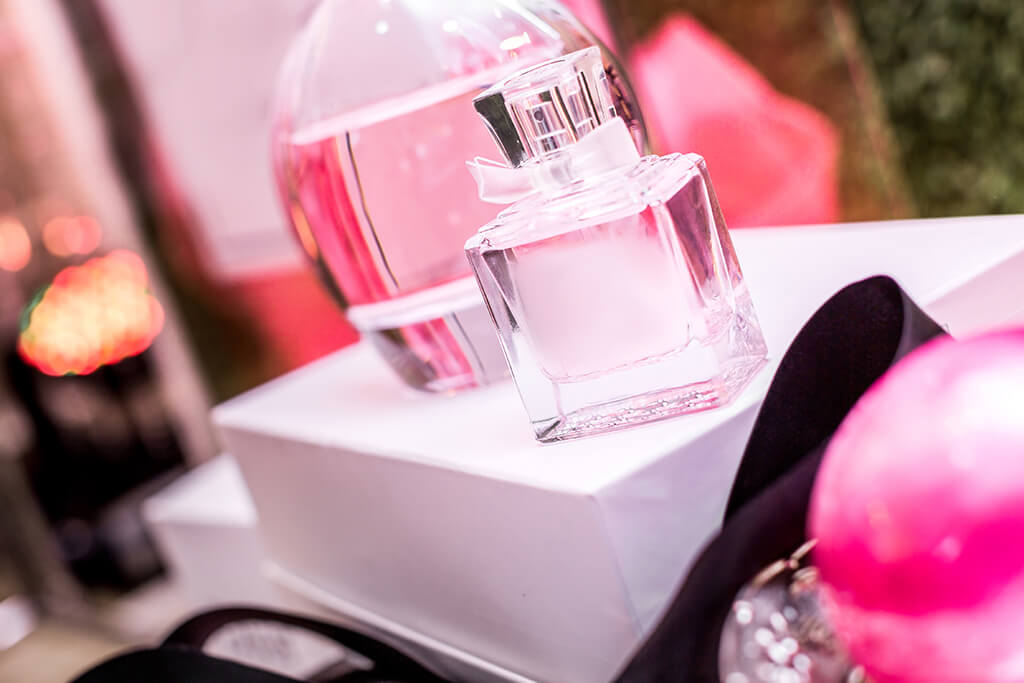 Ever-Changing Fragrance Gifts with Purchase (GWPs)
The term 'gift with purchase' is virtually synonymous with the fragrance market. It's a staple marketing trick that was pioneered 74 years ago by Estée Lauder. Today, GWPs have become a key placement in beauty brands' Christmas portfolios, offering a tactical way of retaining brand equity over peak sales periods.
For those who don't wish to do deep discounting that may sacrifice their luxury image, a GWP offers value to shoppers in a clever, creative manner. Yet, when we compare the volume of GWPs between January to September this year with the same period in 2019, we see a 30% decrease. This is in spite of huge peaks over Mother's Day and Valentine's Day.
So, what could this mean for the upcoming gifting season? It may be a sign that brands are 'saving up' gifts over what has been a tremendously challenging year in retail. However, in the lead-up to Christmas, we can see that online department stores are holding more GWPs. In fact, in September, they were double that of the same month last year.
As for the gifts provided, we saw a variety available in 2019. Case in point: the offering for YSL's sensual, seductive Libre Eau de Parfum. The scent was promoted with must-have GWPs in the form of makeup bags, branded box clutches and their best-selling mascaras – securing its spot as the UK's number one scent.
The most covetable fragrance gift for 2020? That remains to be seen. But, one thing is for sure: brands will be striving to pull out all the stops to end this unprecedented year on a high.