Beauty consumers are some of the most eco-conscious shoppers in the world 71% in the UK feel that beauty brands aren't doing enough to make their products sustainable. In many cases, fixing this perception starts with improving product development and packaging. However, messaging also plays a key role in helping shoppers find brands that align with their values.
Since 2021 began, beauty brands have been stepping up their game, both by launching more sustainable products and putting a fresh spotlight on their existing green efforts. So how does this translate to media mentions? Here, we reveal the brands that are on the rise in the sustainable beauty world, and which products have earned the biggest buzz.
1. 'Eco-friendly' messaging has increased by 255%
Where there's demand, there's always a boost in messaging. Having seen the success of other sustainable disruptors, beauty brands are putting greater focus on their own eco-conscious credentials. In fact, when comparing January to June 2021 with the same period in 2020, we've seen a huge 225% increase in mentions with an 'eco-friendly' message.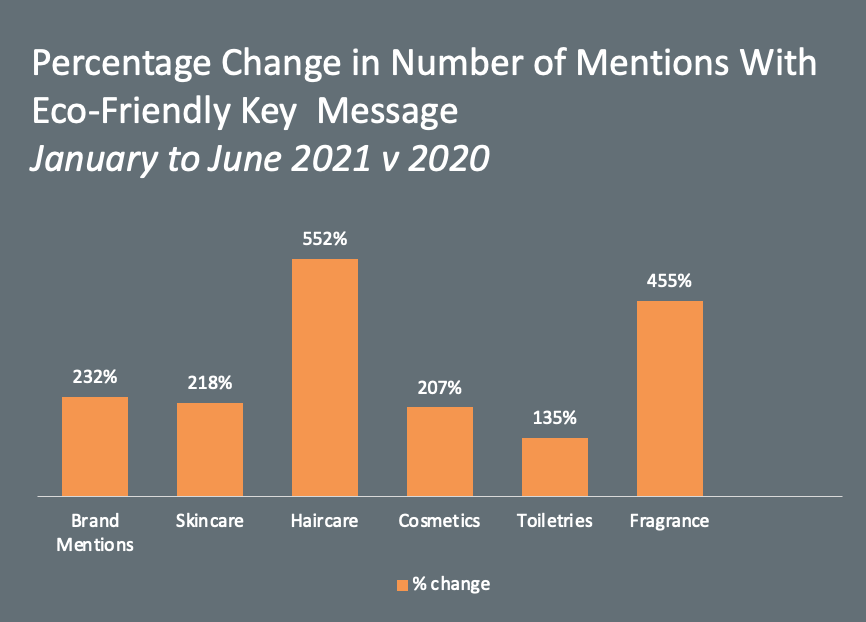 This indicates two things. Firstly, that publications and influencers are more vocal about clean, green beauty, and secondly, that brands may be launching more eco-conscious products or speaking more about their sustainable efforts. This could cover anything from carbon negative production to vegan ingredients, to the use of 100% recyclable packaging.
2. The fragrance and haircare industries are seeing the highest increases
When looking at increased mentions, we've seen the highest uplifts in the fragrance and hair care industries. In the first half of 2021, coverage for these categories soared in comparison to 2020. We've seen skincare win in the eco-space for years, as consumers became more conscious of the ingredients they were putting on their face. However, now fragrance and hair care are catching up, with Aveda and Floral Street seeing some of the biggest boosts.
3. The top three sustainable brands have reshuffled
The original sustainable brand, REN Clean Skincare, has maintained the highest number of 'eco-friendly' mentions this year. However, Garnier has taken Lush's number two position with a host of new products and initiatives.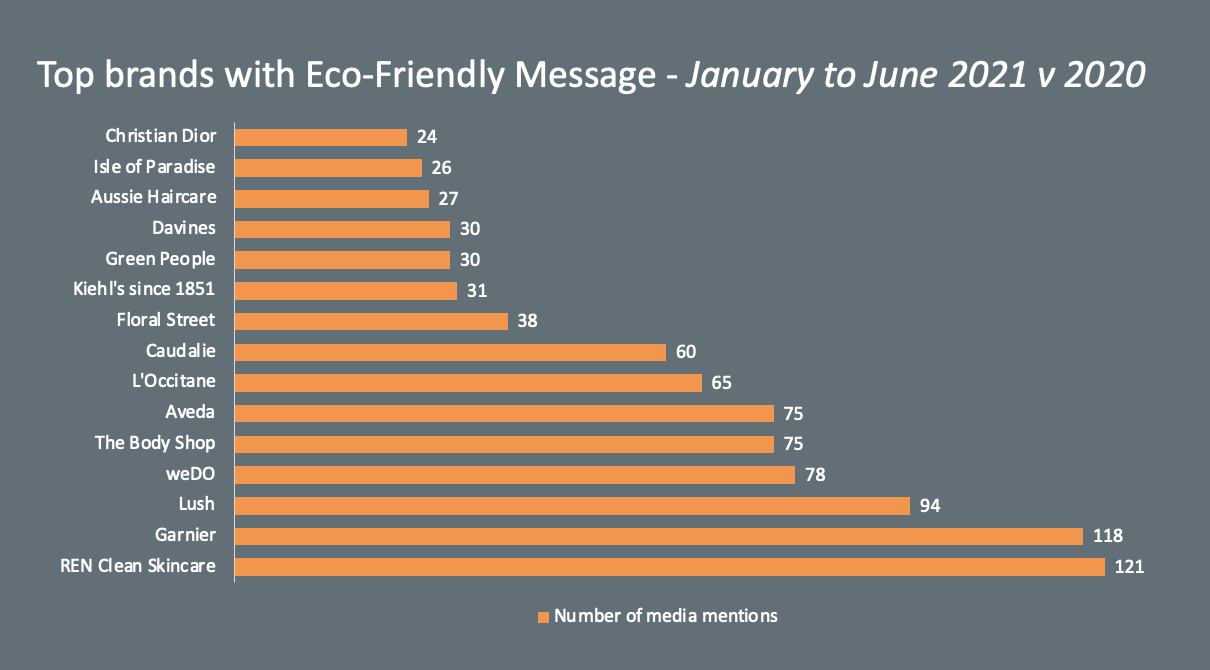 From their zero-plastic Whole Blends Shampoo Bars to their free TerraCycle recycling programme, their go-green efforts have earned them a 556% increase in sustainability-focused coverage. Speaking of...
4. The top eco-friendly product was launched by Garnier
It's not just Garnier's hair care products that have got them noticed by eco-conscious shoppers. They've also developed the most mentioned sustainable product of this year, the Micellar Reusable Makeup Remover Eco Pads. Designed to be used with their cult-classic Micellar Cleanser, these plush pads are a mass-market alternative to disposable cotton pads; perfect for sweeping off mascara, throwing in the laundry, then reusing. Such tools have long been available on smaller beauty etailers, but Garnier is one of the first brands – if not the first – to bring them to supermarket shelves.
5. New entrants are making waves in the sustainable beauty space
This year, we've seen a host of brands bursting onto the sustainable beauty scene, and gaining top 10 'eco-friendly' mentions for the first time. They're not all new brands – nor are they all newcomers to eco-conscious beauty – but the buzz surrounding their green endeavours has seen a sudden spike.
These include just-launched hair care brand weDo, French pharmacy favourite Caudalie, sustainable fragrance house Floral Street, and connoisseurs of cult-famous skincare Kiehl's. While all of these brands were recognised for their eco-conscious products last year, they've gained traction in 2021 by increasing their clean, green messaging.
Up next: Discover which beauty brands are investing the most in TikTok paid partnerships right now.