While makeup – with its instantly visible results – makes for straightforward social media marketing, promoting skincare on Instagram, YouTube and, now, TikTok, is notoriously challenging. However, beauty brands are finding winning formulas for captivating content, in more ways than one. Here are some of the top content trends we've spotted across the best skincare brands on TikTok…
1. 'Before and after' videos
When Glossier rolled out their Solution toner with a deluge of airbrush-free 'before and after' shots, it felt like a new dawn in marketing for beauty shoppers. Now, almost five years on, videos showing real skincare performance are stacking up high engagement on TikTok, with 'skin care routine before and after' posts receiving 55.4 million views (to date). If brands want to prove product performance, this content style is the way to go. Try it with visibly transformative formulas as part of an influencer marketing campaign. It may be a bigger time and money investment than the other trends on this list, but it can have a big impact on generating trust – and sales. If your skincare product offers instant results – say a dewy glow or a sun-kissed finish – a hashtag challenge could also help to take you viral. Check out Drunk Elephant for 'before and after' inspiration, where their D-Bronzi Drops and O-Bloos Rosi Drops make for thumb-stopping transformations.
2. Anthropomorphic products
The anthropomorphism of beauty products has been seen across a number of TikTok feeds, from Tatcha with their googly eye-wearing bottles to The Ordinary and their talking retinol emulsion. Not only does this tactic tap into platform users' penchant for playful content, but it's also free to film – ideal for social media teams trying to keep their feeds up to date within budget.
3. Insight from dermatologists
Dermatologist-backed brands, like La Roche-Posay and CeraVe, are leaning into their DNA with Q&As featuring skin doctors who tackle common skin concerns. La Roche-Posay have adopted the #askaderm hashtag, with doctors who cover everything from dark spots to anti-ageing. Meanwhile, CeraVe have launched a fun yet informative mini-series called 'Derm on the Street'. So far, the latter has seen @dermdoctor Dr. Shah (who has 17.5 million followers) and @skin.doctor Dr. Mina (who has 194,000 followers) each take to the streets to quiz passers-by on their skincare routines. This is influencer marketing at its most creative, fusing the brand's dermatology credentials with trustworthy and knowledgeable talent in a captivating format that boosts brand recognition and loyalty. If your brand has a medical angle, try commissioning experts as ambassadors to propel trust, and give extra gravitas to your high-powered formulas.
4. Gen Z aesthetic
Brands are finding that their TikTok audience skews younger than their Instagram audience, resulting in the need for a fresh tone of voice and brand aesthetic that's tailored to the platform. Gen Z are prominent users, and the likes of Glow Recipe and Makeup Revolution are appealing to them with punchy, pithy captions, trending backing tracks, and the use of influencers that resonate with the demographic. Not all brands have a majority of Gen Z followers on TikTok, but it's important to delve into analytics to ensure your content is speaking to the right group of people.
5. Focus on transparent pricing
From Beauty Pie, to The Ordinary, to The Inkey List; a number of beauty brands are making transparent pricing part of their brand identity. The Ordinary kicked off this trend pre-TikTok with its markup-abolishing strategy. Now, Beauty Pie are promoting their affordable ethos with a profile that reads: 'Tired of over priced beauty products? Join the club'. On the brand's TikTok, clever clips remind followers of the money they could save on skincare, with no middlemen, expensive packaging and markups involved. Their content ranges from funny (check out Rodger Cleye singing in front of a stash of products) to downright persuasive (with reminders of all the costs added to industry RRPs). This isn't a strategy that all brands – especially from big corporations – can adopt, but a helpful pointer for up and comers who are still figuring out their pricing and marketing approach.
The best skincare brands on TikTok
There are many ways to determine brand success on TikTok, from a high volume of followers to viral engagement. But, because visibility is key on this platform, we track who is gaining the most mentions from users. Here are the top 10 most mentioned skincare brands in the UK from January to November 2022: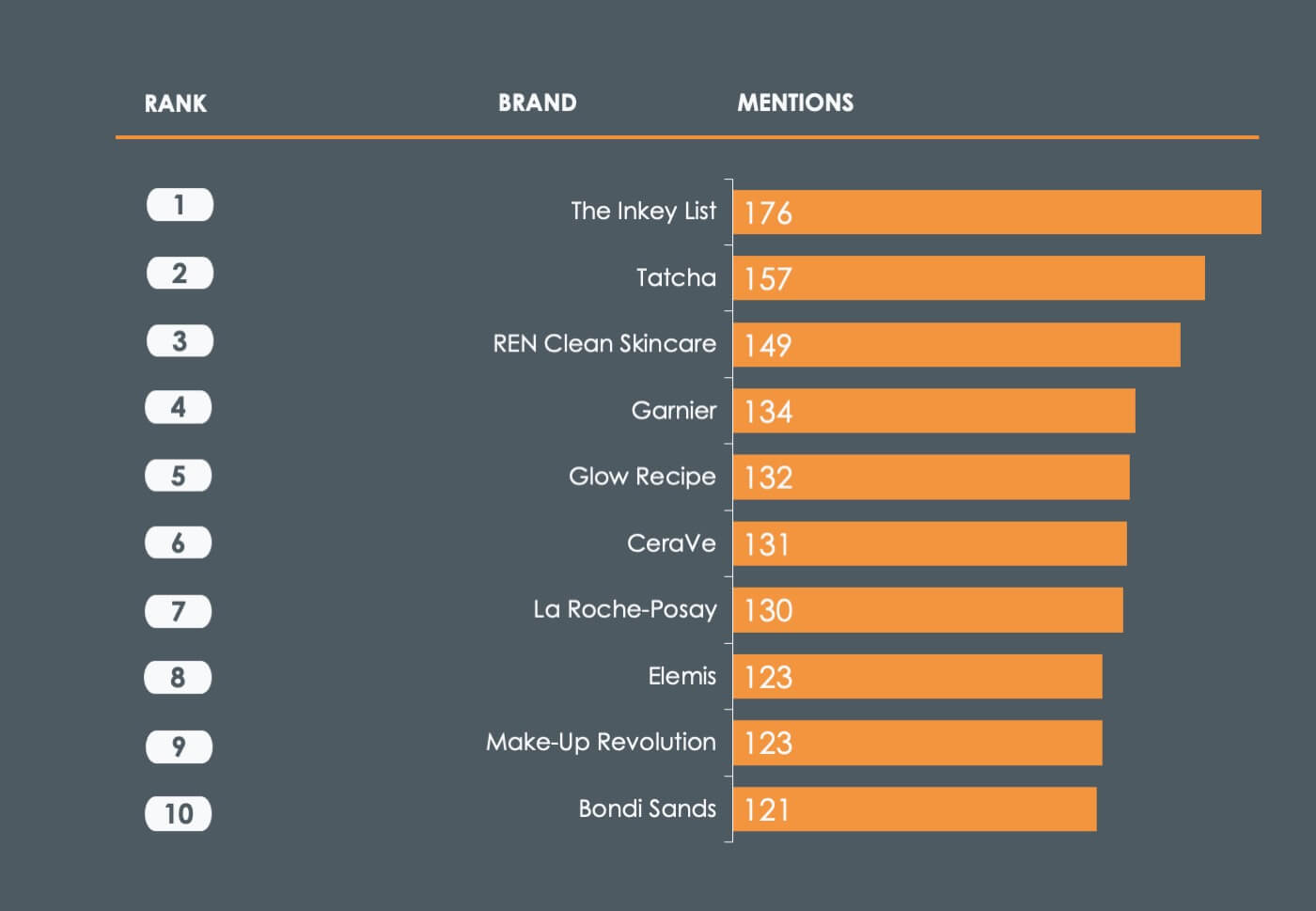 TikTok is trend-driven, and tracking what works on the platform is key to refining your own strategy – whether you want to be inspired by competitors or carve out your own niche. For more advice on how to thrive within the app, check out our guide on launching a new beauty product on TikTok.