When finding influencers to work with the first thing many marketers consider is their style and reach. Do they have the right aesthetic? Do they match the brand values? Is their reach high enough to boost brand visibility? While those details are important, as crucial is the demographic of their audience, as these are the people who will consume the content you're carefully planning out.
Some might think the demographic of the influencer should match that of their audience, but this isn't always the case – in fact, the two can be vastly different. But, with the right tool, you can analyse an influencer's audience to make sure you've found the right fit. These are the areas you need to explore before you kick off a new campaign:
Country/region
Just because an influencer is based in a certain country or region doesn't necessarily mean the majority of their audience is. Location is important – especially for local teams or brands that aren't global – so the first detail to check is the country your campaign would be targeting.
Gender
This data check is less about narrowing down your list of influencers, and more about broadening your horizons to reach your target audience. Many male makeup and skincare influencers often have a large female following, as well as male; something you can analyse to spot opportunities for greater reach.
Age
Consumers' age can impact everything from their choice of skincare formulas to the types of content they engage with. As such, it's vital that brands target the right age group for their product lines. Don't base this on the influencer's age; instead, dig down deep into audience demographics to see if their followers skew younger or older.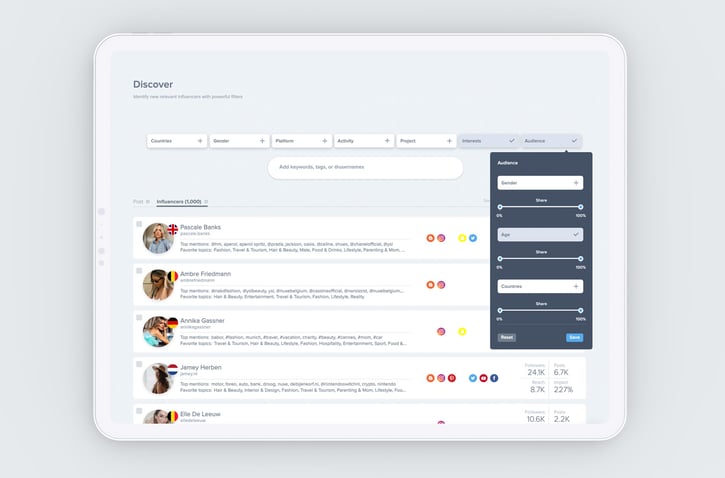 Interests
This is one area where the influencer's data can reflect that of their audience. By analysing your chosen talent's interests, you can start to understand what their followers are interested in too. For example, if they regularly post about sustainable beauty solutions, their audience might be following because it interests them too. Or, if they're known for their colourful clothing and makeup, it could be that their audience find this style aspirational. Having this insight can help you better tailor content to the people consuming it.
Engagement by topic
The right tool will show you what topics an influencer's audience has engaged with most as a percentage, so you can verify that they are indeed interested in the type of products on offer. This is especially useful when working with, for example, a lifestyle influencer, who may speak about a broad range of topics – not just beauty. By delving into the data, you can check that beauty-focused content does indeed perform well with the following, or whether they're more focused on other content topics, such as parenting or interiors.
Account authenticity
In 2018, it was believed that Instagram may have as many as 95 million bots, which accounted for 9.5% of the platform's total user base. It's not uncommon for influencers with large followings to have some percentage of suspicious followers, so an influencer tool is important to measure how many inauthentic accounts make up an audience.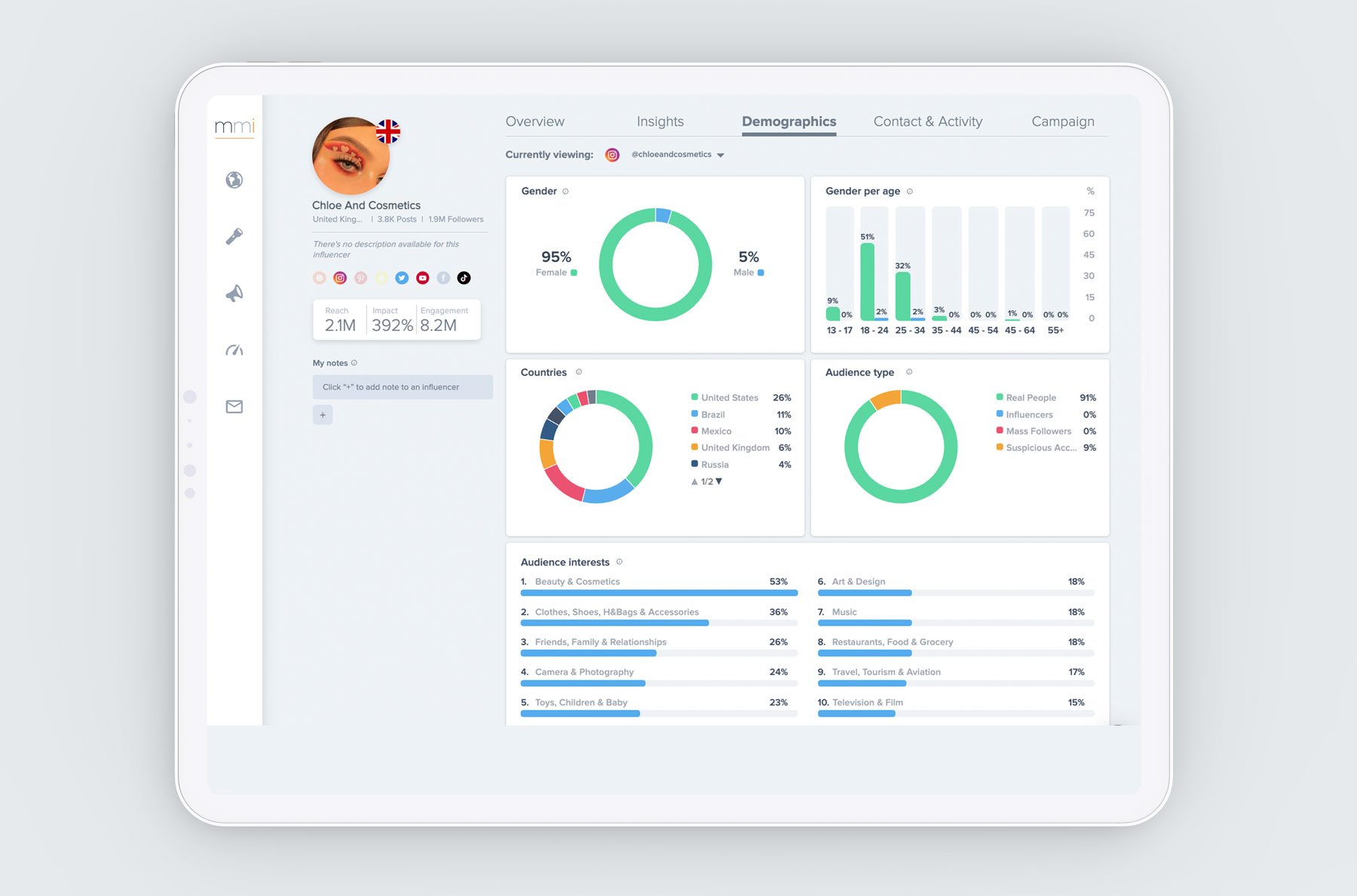 Platform performance
Last but not least, check on platform performance. If you're launching cross-channel campaigns this is especially important, as the influencer's audience demographic may switch from Instagram to TikTok. It may be that the audience is younger on one platform than on the other, requiring an altogether different approach to campaign content (or even a different choice of an influencer).
Up next: Discover how to launch a new makeup product with the help of influencers