The beauty industry is known for its ever-evolving, agile nature. Add a global pandemic, and that ability to innovate is tested to its very limits. Now, as we reach the one year anniversary of the first UK lockdown, brands have shifted in ways that no one could have predicted at the start of 2020.
And, that only looks set to continue. With brands' focus leaning ever more digital, online sales are predicted to account for over 23% of beauty spend by the end of 2021. Here, we reveal the marketing tactics that are helping to propel those sales, from exploring new tech to tapping into TikTok. Here are six ways beauty has transformed during the Covid-19 pandemic...
1. Bringing the Beauty Counter Online
It's not just beauty that has had to shift into a more digital mindset in the past 12 months. All verticals, from food to fitness, have been forced to embrace eCommerce in new and disruptive ways. However, as a famously tactile industry, the move has been something of an upheaval for beauty, as brands have asked themselves, 'how can customers smell, swatch and sample our products through a screen?'
The answer, it seems, is channeling efforts into enhanced content and augmented reality (AR), with everything from shade-matching consultations to digital makeovers recreating in-store beauty counters. L'Oreal Paris has launched a virtual makeup line via filters on Instagram Stories and Snapchat, while Function of Beauty is thriving with quizzes that let you customise haircare and skincare online.
However, bringing products to life through a smartphone doesn't have to be as high-tech as AR innovations. Brands have also seen a boost by simply optimising images on their digital shelves. By bumping up their visuals – including videos – with texture stills and model shots, they've given customers a more in-depth look at their product portfolio. Who needs in-store testers?
2. Close Collaborations with Retailers
Optimising the digital shelf is just one of the ways brands have partnered with retailers. Over the past year, we've also seen an uptick in branded posts on retailers' blogs and social media channels. These close collaborations have gone further in enticing and informing consumers, with stores including John Lewis and The Fragrance Shop playing host to such conversion-driving content. By now considering retailers' blogs and social channels as another type of 'media', manufacturers can cut out a step in the purchase funnel.
3. A Boost for Skincare Brands
While colour cosmetics is still the largest beauty category, it has seen an unsurprising drop in revenue over the course of multiple lockdowns. However, skincare sales accelerated in 2020, with L'Oreal's Active Cosmetics division reporting a growth in sales of 18.9% compared to 2019. CeraVe "practically doubled in size", according to the division president, Myriam Cohen-Welgryn, while La Roche-Posay grew at a double digit rate for the ninth time in ten years.
In particular, there has been keen interest in blue light-blocking skincare, which is designed to keep pores protected in the face of increased screen time. Searches for such products grew by 46% between August 2019 and August 2020, and Coola's blue light-blocking collection saw week-over-week sales double on Amazon from March 1st last year. Skin health is a key focus area for brands and consumers in 2021, with continued growth to be expected as the year progresses.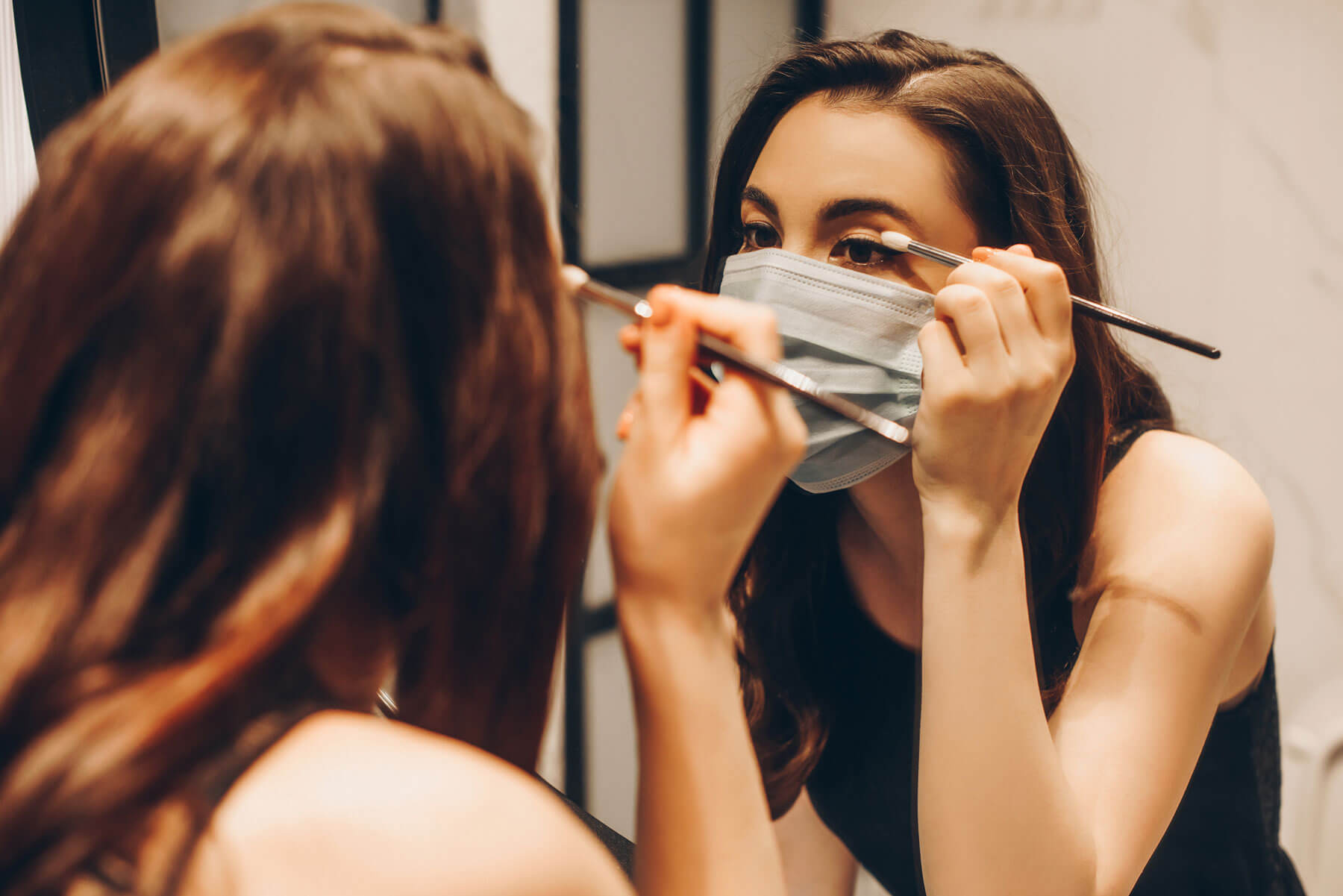 4. Access to Virtual Reality Events
Virtual reality (VR) spaces have become the new pop-up shops, as beauty brands have sought to expand our locked-down worlds with far-flung locations we can visit via smartphone. While VR experiences aren't exactly new, we've seen an uptick in virtually branded events, as both a way of promoting new launches and propelling core offerings.
The latest is the BareMinerals Villa; a seaside bolthole where Hailee Bieber played host to fans who were hoping to learn more about mineral makeup and skincare. It featured a video game-like format that allowed users to click through the space, watch video content, and shop products on the brand's direct-to-consumer site.
A similar experience was introduced by Rihanna for Fenty in July 2020, when she opened up a virtual mansion that allowed beauty lovers to explore her new skincare collection. Charlotte Tilbury also took a festive foray into the trend last Christmas, with Charlotte's Beauty Secrets gift shop. Customers could explore curated gift guides, then watch product demos in the clickable boutique.
5. Success for Subscription Brands
Subscription brands have soared in lockdown, as shoppers have looked to simplify their shopping habits with monthly deliveries of their must-have consumables. While Estrid has revolutionised women's razors with blade top-ups and pastel packaging, Wild has breathed new life into natural deodorant with evocative scents and refillable pods. Making everyday items Instagrammable, they're easy-to-justify purchases that – as part of a subscription – refresh consumers' daily rituals without feeling frivolous.
Meanwhile, Beauty Pie has seen a surge in sales, too. According to Vogue Business, the brand enjoyed a 70% growth in memberships from March to December 2020. Over the past year, not only have their home fragrance and skincare offerings expanded, but they've also branched out into the wellness category with a line-up of supplements. From collagen powder to vitamin D; the introduction of these health-boosting heroes means the brand has been able to attract an even wider pool of customers. No wonder they just keep growing.
6. Embracing New Social Platforms
There's been no escaping the TikTok boom. Although the platform first launched in 2016, it took off in 2020 as a source of quarantine entertainment. Beauty brands, like Glossier and Glow Recipe, jumped on the social network early, creating bite-sized tutorials and playful clips to test and learn what content types might resonate.
And, while tapping into new social media trends is often a brand awareness endeavour, TikTok has resulted in revenue increases for beauty's digital disruptors. Case in point: The Ordinary received a 426% sales spike in its AHA 30% + BHA 2% Peeling Solution, after influencer mentions of the acid went viral on the platform.
Such results have made brands more open-minded when it comes to new social networks, paving the way for video-making service Triller to succeed in 2021. So far, early adopters of the platform include e.l.f Cosmetics and NYX, who are posting thumb-stopping music videos and tutorials on their grids. Clubhouse is also making waves in the beauty community, connecting industry professionals for B2B networking and 'town hall' meetings.
Up next: discover why Amazon is so important to beauty brands right now.