Social commerce has transformed the way beauty lovers shop for their favourite products, taking them from thumb-stopping Instagram posts to checkout in just a few taps (or less). And it's exactly this capability – and its popularity – that has brands readdressing all of their online paths to purchase, and looking for more ways to streamline the customer journey, social media-style.
Now, digital touch points are catering to a 'see it, want it, buy it' group of shoppers, who may seek other journeys if the route to checkout is anything less than frictionless. Even just one obstacle can throw a shopper off course, and direct them to a competitor. So, how do you streamline your online path(s) to purchase? Here are five optimisation tricks to try…
1. Audit the start of the journey
Consider the many ways consumers become aware of your brand, and ensure you're measuring the start of those journeys. Technology and data are key here, and the sooner you start gathering insights, the quicker you can spot 'dead ends'. The digital touch points and updates you need to consider include:
Adding a shoppable feed on social media
Link your social media grids up to your store of choice to strengthen etailer relationships, then explore performance data to see which products and post types drive the highest number of clicks. A/B testing content – from messaging to visuals – will help you understand what makes your audience click, so you can refine the type of posts you're posting on your owned channels.
Analysing your presence in the media
Use a beauty media monitoring tool to understand your share of voice (SOV) within the industry, then benchmark your success with that of your competitors. By following this practice regularly, you can spot gaps in your PR strategy, see what's working for others, and in turn ideate new ways to boost your online presence.
Implementing trackable links where possible
Provide influencers and digital press with unique trackable links, so you can see what media types perform well for your brand, then adapt your strategy accordingly. The right link generating service will enable you to see how many shoppers have clicked, whether they made a purchase, and how much they spent on each order.
2. Review your visibility on retail sites
It's not just about boosting presence across the media; your brand needs etail visibility too. It should be easy for your products to be found amongst a slew of competitors when they hit the storefront. So, how do you make this happen? First up, invest in co-op ad tracking technology, and use it to negotiate an ad placement with a high SOV. The right tool will show you the most lucrative positions at different key consumer periods, as well as what's historically worked for your competitors. Once you've agreed to a spot, use the same platform to check your ad remains compliant throughout the campaign. This means making sure:
Your ads appear for the full length of time agreed with no downtime.

The correct creative is used to advertise your products.

The ad links to the right page with the expected products shown.
Your ad tracking tool – the same one you used to find the perfect placement – should be able to track the above throughout your campaign, so you always get the visibility you paid for.
3. Improve your product page content
Beauty shoppers don't have time to read through droves of product information, so perfecting your messaging hierarchy is key to streamlining their journey. Start by addressing copy. The first sentence should summarise what it is, and why buyers will love it, before snappy bullet points highlight benefits, ingredients, how to use the product, and any other essential details. The trick is to create a succinct product 'snapshot' in the first lines of text, then delve deeper for those shoppers who have more time to read.
You should also display a comprehensive set of images for those who prefer to look at photos over copy. Show packaging, applicators, swatches, texture stills and ingredients, alongside any relevant video content. Shoppers should be able to find everything they need to know on this page, so they don't end up on Google, searching for further information or – worse yet – a competitor product.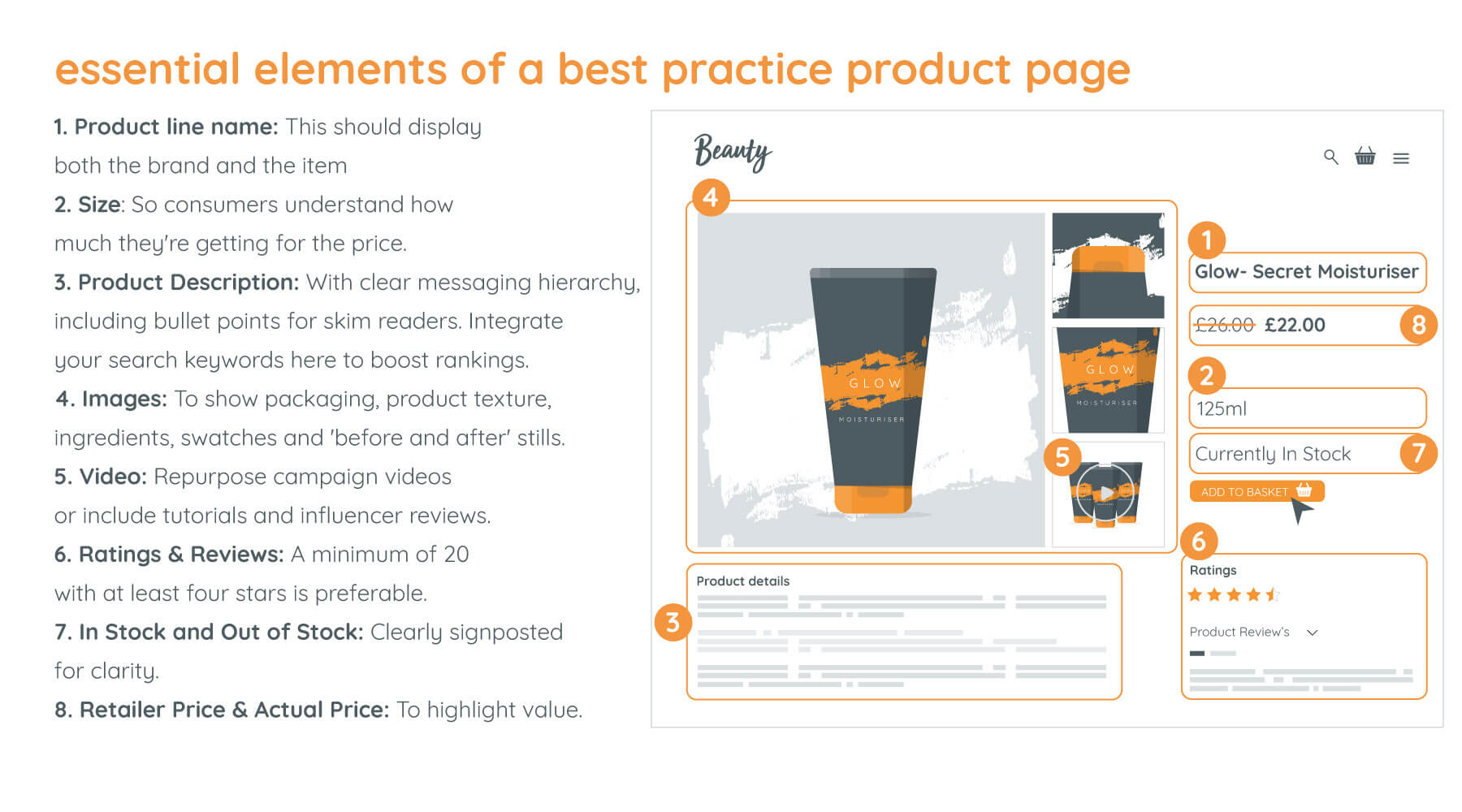 4. Tracking pricing across all etailers
Like all consumers, beauty shoppers are looking for the best deals on their products – especially on new items, where they don't yet have any brand loyalty. Even after reaching a product page, they may search for the same item elsewhere to see if they can find a discount. They could even end up buying a similar item from a competitor if the price is right.
For this reason, it's important to track product pricing across the industry, so you can understand why your path to purchase is getting disrupted at certain times. A beauty-specific tool will be able to show you your own pricing across different etailers, whether any discounts have been applied, and how other brands' products are being treated on the same site. This data can help you put your revenue into context, so you can understand if a dip in sales is due to a poor customer journey or a tempting discount elsewhere. When tracking pricing, you should also be checking that any gifts with purchase (GWPs) are in stock. If they're not, this may explain a sudden drop-off before customers make it to the checkout.
5. Ensure the checkout experience is seamless
While you have little control over the checkout experience on third-party etail sites, you have the power to optimise this final stage on your direct-to-consumer store. Audit the existing set-up to ensure:
It's mobile-friendly.

Any discount code boxes are easy to find.

Free gifts are displayed in the final product breakdown.

Quick-purchase capability, such as Apple Pay, is activated.

Upselling banners are featured. For example, 'Add this hand cream to your cart for just £5 more'.

Confirmation messaging is clear after the purchase has been made.



With all of these tricks, it's important to keep monitoring and optimising for the best experience. After all, the etail world is constantly evolving – so your customer journey should be too.
But, first…
Before you start following these tips to enhance your path(s) to purchase, download and fill out the new mmi workbook: Your Three-Phase Guide to Elevating the Online Beauty Shopper Journey . It encourages you to think about your current performance with questions for you and your team, and outlines the changes that will propel customers to the point of sale. This is a great exercise for marketing, ecommerce and PR professionals looking to drive success in the lead-up to Q4 – and beyond. So download now, share it with your team, and get planning.